Actualités
Sir Julian King sera le nouvel ambassadeur du Royaume-Uni en France
Il succédera à Sir Peter Ricketts en février 2016.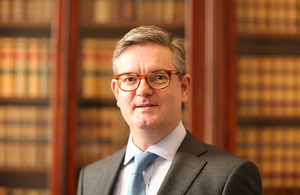 Sir Julian King prendra ses fonctions en tant qu'ambassadeur de Sa Majesté auprès de la République française à compter du lundi 1er février 2016. Nommé en décembre 2015, Sir Julian King succède à Sir Peter Ricketts, qui prendra sa retraite du service diplomatique fin janvier 2016.
« L'amitié entre la France et la Grande Bretagne est réelle, robuste et basée sur le partage des mêmes valeurs fondamentales, observe Sir Julian King. Ainsi, nos deux pays continuent d'affronter les défis du 21ème siècle en se serrant les coudes sur les tous les fronts : militaires, sécuritaires, économiques et culturels. Et comme l'a indiqué notre Premier ministre, si nous arrivons à trouver un accord avec nos partenaires qui rende l'Union européenne plus forte, je reste convaincu que le Royaume-Uni gagnera à rester dans une Union européenne réformée et cette dernière bénéficiera à son tour de la présence britannique en son sein. Je suis fier d'ouvrir un nouveau chapitre dans nos rapports et l'année 2016 s'annonce passionnante : au printemps sont programmés un sommet franco-britannique, l'ouverture d'un nouveau consulat à Marseille et une campagne pour fêter l'œuvre de Shakespeare en France ; s'y ajoutent cet été, le tournoi de l'EURO 2016 et les commémorations du centenaire de la bataille de la Somme où nos deux nations ont combattu ensemble. »
Jusqu'à présent Directeur-général des affaires économiques et consulaires de la diplomatie britannique à Londres, cet ancien ambassadeur du Royaume-Uni en Irlande a également occupé plusieurs postes stratégiques à Bruxelles dont notamment le poste de directeur de cabinet des commissaires britanniques Peter Mandelson et Baronne Ashton à la Commission européenne. Francophile, Sir Julian King connaît bien l'Hexagone, qu'il s'agisse de Paris où il a étudié à l'ENA au sein de la promotion « Liberté, Egalité, Fraternité » (1989) et destination de sa première mission à l'étranger en tant que diplomate, ou du Gers où il a une maison depuis 25 ans.
Curriculum Vitae
| | |
| --- | --- |
| Nom : | Sir Julian King KCVO CMG |
| Marié à : | Lotte Knudsen |
| 2014 – présent | FCO, Director-General Economic & Consular |
| 2011 – 2014 | Director General of the Northern Ireland Office |
| 2009 – 2011 | Dublin, Her Majesty's Ambassador |
| 2008 – 2009 | EU Commission, Chef de Cabinet to British Commissioner |
| 2004 – 2008 | UK Rep Brussels, UK Representative on EU Political and Security Committee |
| 2003 – 2004 | UKMis New York, Counsellor |
| 1998 – 2003 | UKRep Brussels, First Secretary later Counsellor working on enlargement |
| 1994 – 1998 | FCO, Private Secretary to Permanent Under-Secretary of State |
| 1990 – 1994 | FCO, Second later First Secretary working on NATO and European Defence |
| 1987 – 1990 | Paris, Third later Second Secretary, Ecole Nationale d'Administration; later Private Secretary to Her Majesty's Ambassador |
| 1985 – 1987 | Joined FCO, worked on Latin America and Western Europe |
En savoir plus
Published 18 décembre 2015
Last updated 29 janvier 2016
+ show all updates
Added translation
First published.