Change of Her Majesty's Ambassador to Bosnia and Herzegovina 2010
Mr Nigel Casey MVO has been appointed Her Majesty's Ambassador to Bosnia and Herzegovina.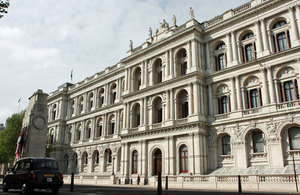 He will succeed Mr Michael Tatham who will be transferring to another Diplomatic Service appointment. Mr Casey will take up his appointment during summer 2011.
Nigel Casey is currently serving at the British High Commission in New Delhi, as Deputy High Commissioner. He joined the FCO in 1991 and has since worked in South Africa, the United States, Russia and India.
He served in South Africa at the time of the transition from apartheid to multi-party democracy, and was made a Member of the Victorian Order following HM The Queen's historic 1995 State Visit. He subsequently served in Washington DC as Private Secretary to the British Ambassador, before returning to London to work on nuclear weapons issues and as Assistant to the UK's G8 Sherpa. He worked on political issues for three years at the British Embassy in Moscow, before returning to London to Head the FCO's Iraq Group. In 2007 he was posted to New Delhi as Political Counsellor, where he was promoted to be Deputy High Commissioner in 2009.
Nigel studied Modern History at Oxford University. He is married to Clare Casey and has a son and daughter.
On his appointment as Ambassador to Bosnia and Herzegovina, Mr Casey said:
"I'm delighted and honoured to be taking up this posting. Supporting Bosnia and Herzegovina's emergence as a peaceful, prosperous and plural country, fully integrated into the European family, is one of the British Government's highest priorities. I very much look forward to the challenge, and to living in one of Europe's most beautiful and culturally vibrant cities."
Curriculum vitae
Full name: Nigel Philip Casey
Married to:
Clare Casey
Children: One son and one daughter
2009-present New Delhi, Deputy High Commissioner
2007-09 New Delhi, Political Counsellor
2006-07 FCO, Head, Iraq Policy Unit
2003-06 Moscow, Head, External Section
2002 Full-time Russian language training
2001 FCO, Head, G8 & OECD Section, Economic Policy Dept
1999-2000 FCO, Head, Nuclear & Missile Defence Section, Security Policy Department
1996-98 Washington, Private Secretary to HM Ambassador
1993-95 Johannesburg, Vice-Consul (Political/Aid/Press)
1991-93 FCO Desk Officer, Know How Fund (Hungary, Bulgaria)
1991 Joined Foreign and Commonwealth Office
Published 13 December 2010