Change of Her Majesty's Ambassador to Azerbaijan
Mr Peter Bateman has been appointed Her Majesty's Ambassador to the Republic of Azerbaijan.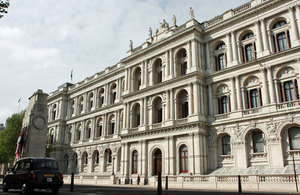 He will succeed Dr Carolyn Browne who will be transferring to another Diplomatic Service appointment. Mr Bateman will take up his appointment during September 2011.
Mr Bateman has been British Ambassador in Luxembourg since 2007. He joined the FCO in 1984 and has served in Tokyo (twice); Berlin; and La Paz. He has also spent time on secondment to the private sector as Deputy Chief Executive of the body charged with promoting the City of London overseas (International Financial Services London).
On his appointment as Ambassador to the Republic of Azerbaijan, Mr Bateman said:
"It is a privilege and an honour to have been appointed Ambassador to the Republic of Azerbaijan. The United Kingdom and Azerbaijan are ever-closer partners in a wide variety of areas and I look forward immensely to strengthening that partnership in any way I can. My wife, Andrea, and I are delighted at the prospect of exploring this beautiful country and making many new Azerbaijani friends in the process."
CURRICULUM VITAE
Full name:
Peter Bateman
Married to:
Andrea Bateman (nee Subercaseaux)
Children: Three
2007-present Luxembourg, Her Majesty's Ambassador
2005-2007 La Paz, Her Majesty's Ambassador
2003-2005 Secondment to City of London as Deputy Chief Executive, International Financial Services London
1998-2002 Tokyo, Director Trade and Investment
1993-1997 British Embassy Berlin Office, Head of Commercial Section
1991-1993 FCO, Head, Nuclear Non-Proliferation Section
1991 FCO Spokesperson (Africa and Consular beat)
1987-1990 Tokyo, First Secretary Political
1985-1987 Full-time Japanese language training
1984-1985 FCO, Assistant Desk Officer (Kenya, Tanzania and Uganda), East Africa Department
1984 Joined FCO
Published 12 January 2011