Change of Her Majesty's Ambassador to Afghanistan
Sir Richard Stagg KCMG has been appointed Her Majesty's Ambassador to the Islamic Republic of Afghanistan.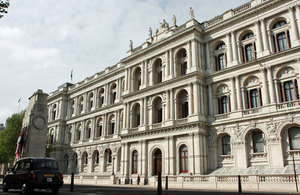 He will succeed Sir William Patey KCMG who will be retiring from the Diplomatic Service. Sir Richard will take up his appointment during April 2012.
Sir Richard joined the FCO in 1977. His early career focused on East/West relations. Thereafter he worked extensively on European issues, including two postings to Brussels, and was closely involved with the process of enlarging the EU to bring in the new democracies of Central & Eastern Europe. Most recently, he was British High Commissioner to India from September 2007 until November 2011.
On his appointment as Her Majesty's Ambassador to the Islamic Republic of Afghanistan, Sir Richard said:
"I am very pleased to have the opportunity to lead the UK's engagement with the Government of Afghanistan at a critical time. There are clear signs of significant progress in Afghanistan, in areas ranging from security to education. But major challenges remain. I look forward to supporting the Government of Afghanistan in its commitment to creating stability and prosperity in the years to come. And I feel particularly privileged to be able to work with the many people from the UK, including the Armed Forces and the voluntary sector, who are making a massive personal contribution to this effort."
Curriculum vitae
Full name:
Charles Richard Vernon Stagg
Married to:
Arabella Clare Stagg
Children:
3 sons; 2 daughters
Sept 2007 - present
British High Commissioner to India
Dec 2003 - June 2007
FCO, Director General Corporate Affairs
Oct 2001 - Dec 2003
FCO, Director of Public Services, later Director of Information
Oct 1998 - Oct 2001
Her Majesty's Ambassador to Bulgaria
Jan 1996 - June 1998
FCO, Head of EU (External) Department
July 1993 - Jan 1996
FCO, Private Secretary to the Foreign Secretary
Aug 1991 - July 1993
Brussels, British Press Spokesman
Jan 1988 - July 1991
FCO, Soviet Department
Dec 1986 - Jan 1988
Brussels, European Council Secretariat
July 1986 - Dec 1986 FCO, EU Presidency Unit
Dec 1985 - June 1986
Seconded to Netherlands Foreign Ministry
Nov 1982 - Sept 1985
British Embassy, The Hague
Sept 1979 - Sept 1982
British Embassy, Sofia
Oct 1977
Joined FCO
Published 20 December 2011