Change of Her Majesty's High Commissioner to the Republic of Rwanda
Mr Benedict Llewellyn-Jones OBE will succeed Mr Nicholas Cannon OBE who will be transferring to another Diplomatic Service appointment.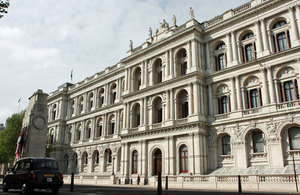 Mr Llewellyn-Jones will take up his appointment during January 2011.
Mr Llewellyn-Jones joined the Civil Service in 2000 and has served in the UK's Permanent Representation to the EU in Brussels and as Head of the Zimbabwe team in London.
On his appointment as High Commissioner to the Republic of Rwanda, Mr Llewellyn-Jones has said "I feel very proud and privileged to be appointed the UK's next High Commissioner to Rwanda. I look forward to representing the United Kingdom in Rwanda and ensuring the UK remains a close friend and strong development partner for the Government and people of Rwanda."
Curriculum vitae
Full name: Benedict Llewellyn-Jones
Married to: Laura Llewellyn-Jones
Jan 2009 - present Deputy Head, Climate Change and Energy Group, FCO
Jan 2007 - Dec 2008 Head, Zimbabwe Team, FCO
Mar 2006 - Dec 2006 Head, Third Country Relations Team, Home Office
Jan 2005 - Feb 2006 First Secretary, Policing and Organised Crime, UK Permanent Representation to the EU, Brussels
March 2002 - Dec 2004 Second Secretary, Policing and Drugs, UK Permanent Representation to the EU, Brussels
Jan 2002 - March 2002 Press Officer for International Affairs, Press Office, Home Office
Sept 2000 - Dec 2001 Desk Officer, EU and International Affairs Team, Home Office
2000 Joined Civil Service as a European Fast Streamer
Published 22 December 2010