News story
Change of Her Majesty's Ambassador to Turkey
Mr Richard Moore has been appointed Her Majesty's Ambassador to the Republic of Turkey.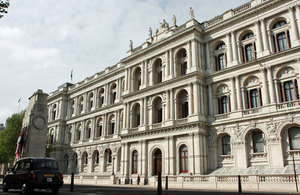 He will succeed Mr David Reddaway CMG MBE. Mr Moore will take up his appointment in January 2014.
Mr Moore was Director for Europe, Latin America and Globalisation until November 2012. He joined the FCO in 1987 and has worked in London on the Middle East and security policy before becoming Director of Programmes and Change. A Turkish speaker, he has served overseas in Vietnam, Turkey, Pakistan and Malaysia.
On his appointment as Her Majesty's Ambassador to the Republic of Turkey, Mr Moore has said "I am delighted to be returning to Turkey where I served early in my diplomatic career. I look forward to working with this close NATO ally, EU candidate and increasingly important political and trading partner, to build an even stronger relationship of trust and friendship between Britain and Turkey in the years ahead."
Curriculum Vitae
| Full name: | Richard Peter Moore |
| --- | --- |
| Married to: | Margaret Patricia Isabel Moore (k.a. Maggie) |
| Children: | One son, one daughter |
| | |
| --- | --- |
| 2010-present | FCO, Director Europe, Latin America and Globalisation |
| 2008-2010 | FCO, Director Programmes and Change |
| 2007 | Stanford Executive Programme |
| 2005-2008 | FCO, Deputy Director Middle East |
| 2001-2005 | Kuala Lumpur, Counsellor |
| 1998-2001 | FCO, Section Head, Security Policy Group |
| 1995-1998 | Islamabad, First Secretary |
| 1992-1995 | FCO, Desk Officer, Iran |
| 1991-1992 | Istanbul, Consul (Political and Press) |
| 1990 | Ankara, Second Secretary (Political) |
| 1988 | Hanoi, Third Secretary |
| 1987 | Joined Her Majesty's Diplomatic Service |
Published 14 December 2012