Change of Her Majesty's Ambassador to the State of Qatar
Mr Michael Angus O'Neill has been appointed Her Majesty's Ambassador to the State of Qatar.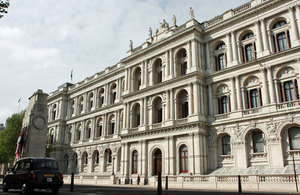 He will succeed Mr John Mark Hawkins who will be transferring to another Diplomatic Service appointment. Mr O'Neill will take up his appointment during May 2012.
Mr O'Neill joined the FCO in 1994 after a three-year secondment from the Ministry of Defence at the United Kingdom Delegation to NATO. He has focussed for most of his career on multi-lateral security and economic issues, and latterly on post-conflict stabilisation in Africa and Afghanistan. He has also been speech writer to two Foreign Secretaries. Mr O'Neill has served in Washington and at the UK missions to the United Nations in New York and the European Union in Brussels. Most recently he spent three years as the United Kingdom's Special Representative for Sudan, followed by 18 months as Head of Mission at the UK-led Provincial Reconstruction Team in Helmand, Afghanistan.
On his appointment as Her Majesty's Ambassador to the State of Qatar, Mr O'Neill has said "I am excited by the opportunity to help further strengthen the United Kingdom's thriving relations with Qatar, which cover so many areas from cooperation on political issues to expanding bilateral trade and investment and from extensive educational links to a developing cultural alliance. On a personal level I am delighted to return to Doha, having visited several times as the United Kingdom's Special Representative for Sudan. At a broader level, Qatar has firmly established itself over recent years as a leading actor on the most pressing regional and global issues, and as a major international economic player. I look forward to contributing to a growing strategic partnership between the United Kingdom and the State of Qatar to advance shared interests."
Curriculum vitae
Full name: Michael Angus O'Neill
Married to:
Claire Naomi, nee Bannerman
Children:
Four (one daughter, three sons)
2010 - 2012
Head of Mission, Helmand Provincial Reconstruction Team/ISAF Senior Civilian Representative, Regional Command South-West, Afghanistan
2007 - 2010
UK Special Representative for Sudan
2006 - 2007
UKRep Brussels, External Relations Counsellor
2002 - 2006
UKMIS New York, Development/Human Rights Counsellor
1999 - 2002
Washington, First Secretary, Political-Military
1998 - 1999
Visiting Fellow, Institute for National Security Studies, Washington
1996 - 1998
FCO, First Secretary, European Union (Internal) Department
1995 - 1996
FCO, Foreign Secretary's Speechwriter
1994 - 1995
FCO, Private Secretary to Lord Owen (Co-Chair, International Conference on Former Yugoslavia) and part-time desk officer in Eastern Adriatic Unit
1994
Transfer to Foreign and Commonwealth Office/HM Diplomatic Service
1991 - 1994
UKDEL NATO, Second Secretary (Defence), UK Air Defence
Representative to NATO
1988 - 1991
Ministry of Defence, Administrative Trainee
Published 28 March 2012