News story
Change of Her Majesty's Ambassador to the Republic of Sudan
Dr Peter Tibber has been appointed Her Majesty's Ambassador to the Republic of Sudan.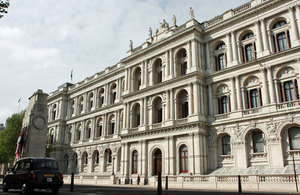 He will succeed Mr Nicholas Kay CMG who will be transferring to another Diplomatic Service appointment. Dr Tibber will take up his appointment during Summer 2012.
Dr Tibber joined the FCO in 1984 after completing a doctorate in medieval history at Oxford University. He has been posted to France, Turkey, Mexico, Germany and Pakistan. He was a member of the Senior Management Team of UKTI. Most recently, he has taken up a short term posting as interim High Commissioner in Kenya.
On his appointment Dr Tibber has said "I am honoured and delighted to be appointed Her Majesty's Ambassador to the Republic of Sudan. I look forward to working with the Government and colleagues in the Embassy to help bring peace, security and prosperity to the people of Sudan"
Curriculum vitae
Full name: Peter Tibber
Married to:
Eve
Children:
Three sons
Nov 2011 - present
Nairobi Interim High Commissioner
Sept 2009 - Sept 2011
Islamabad, Deputy High Commissioner
2005 - 2009
Dusseldorf, Consul General & Director UKTI Germany
2002 - 2004
UKTI, Director, International Sectors Group
2001 - 2002
UKTI, Director, International Management Directorate
2000 - 2001
UKTI, Director, Africa and Middle East
1997 - 2000
Mexico City, Deputy Head of Mission
1993 - 2007
Ankara, Head Political Section
1990 - 1992
PS/Minister of State (Lord Caithness/Alastair Goodlad)
1994
Transfer to Foreign and Commonwealth Office/HM Diplomatic Service
1984 - 1990
Successively:
FCO, Assistant Desk Officer Argentina,
Paris, PS/ Her Majesty's Ambassador,
FCO, Head of South Africa Sanctions Team
Published 2 April 2012