News story
Change of Her Majesty's Ambassador to the Republic of Poland
Mr Robin Barnett, CMG has been appointed Her Majesty's Ambassador to the Republic of Poland in succession to Mr Ric Todd who will be transferring to another Diplomatic Service appointment.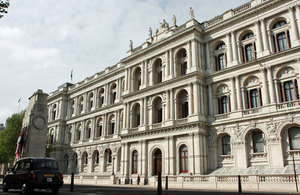 Mr Barnett will take up his appointment during July 2011.
Mr Barnett joined the FCO in 1980 has worked in a wide range of posts including twice in Warsaw beginning in 1982, the UN in New York and most recently as Ambassador in Romania.
On his appointment as Her Majesty's Ambassador to the Republic of Poland, Mr Barnett has said "I am truly delighted to be returning to a country that I know so well and have a deep respect for. The UK and Poland already have a strong relationship and there are close ties between our two peoples. My main aims will be to help develop further our forward looking partnership and to promote British interests in Poland."
Curriculum Vitae
Full name:
Robin Barnett, CMG
Married to:
Tesca Barnett-Osman (Separated)
Children: One Son. One stepson
2010 - present
Managing Director Business Group, UKTI
2006 - 2010
Her Majesty's Ambassador to Romania
2002 - 2006
Director of UKvisas
2001 - 2002
FCO, Afghanistan Emergency Unit
1998 - 2001
British Embassy Warsaw, Deputy Head of Mission
1996 - 1998
FCO, Deputy Head, Eastern Adriatic Department
1991 - 1995
UKMIS New York, First Secretary ECOSOC
1990 - 1991
UKDEL Vienna, First Secretary
1988 - 1990
FCO, Desk Officer, Security Policy Department
1985 - 1988
FCO, Desk Officer, ECD (I)
1982 - 1985
British Embassy Warsaw, Third/Second Secretary Political
1980 - 1982
FCO, Desk Officer, Indonesia/Philippines
Published 20 June 2011