Change of Her Majesty's Ambassador to the Republic of Korea
Mr Scott Wightman CMG has been appointed Her Majesty's Ambassador to the Republic of Korea in succession to Mr Martin Uden who will be transferring to another Diplomatic Service appointment.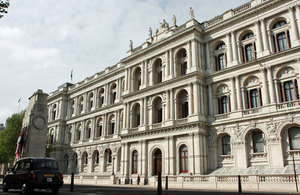 Mr Wightman will take up his appointment during 2011.
Scott Wightman has been Director for the Asia Pacific region in the FCO since September 2008. Prior to that he was Director for Global and Economic Issues, leading work in the FCO on climate change, energy security, trade policy and the global economy. He was the UK Sous-sherpa for the G8 Summit in Toyako in 2008.
He previously served as Deputy Head of Mission at the British Embassy in Rome and worked on political issues in the British Embassy in Paris following a year on secondment in the Asia Directorate of the French Foreign Ministry.
After studying Chinese he worked in Commercial Section in British Embassy in Beijing from 1986 to 1989. He studied French and European Institutions at Edinburgh University. HM The Queen awarded him a CMG in 2009.
On his appointment as Ambassador to the Republic of Korea, Mr Wightman has said "It's a great honour to be appointed HM Ambassador to the Republic of Korea. The friendship between our countries is broad and deep, as illustrated by the Prime Minister's visit last week. I look forward to building on this in the coming years."
Curriculum vitae
Full name:
Scott Wightman CMG
Married to:
Anne
Children:
Two daughters
Sept 2008 - present FCO, Director, Asia Pacific
2006 - Aug 2008 FCO, Director, Global and Economic Issues
2002 - 2006 Rome, Deputy Head of Mission
1998 - 2001
FCO, Assistant Director, Personnel Policy
1995 - 1998
Paris, First Secretary, External
1994 - 1995 On secondment to French Foreign Ministry
1991 - 1993 FCO, Resource and Finance Department
1989 - 1991 Cabinet Office, Assessments Staff
1986 - 1989 Beijing, Second Secretary Science and Technology
1984- 1986 London / Taiwan for Chinese Language Training
1983 - 1984 FCO, Western European Department
Published 17 November 2010