News story
Change of Her Majesty's Ambassador to the Republic of Croatia
Mr David Arthur Slinn CMG OBE has been appointed Her Majesty's Ambassador to the Republic of Croatia in succession to Mr David Graeme Blunt CVO who will be leaving the Diplomatic Service.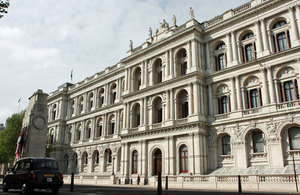 Mr Slinn will take up his appointment before Easter 2012.
Mr Slinn joined the FCO in 1981 and has worked extensively in the region of South-East Europe, both bilaterally and on secondment to multilateral organisations. He was also Britain's first Ambassador to North Korea (DPRK).
On his appointment as Her Majesty's Ambassador to the Republic of Croatia, Mr Slinn has said:
"I am delighted to have been appointed Britain's next Ambassador to Croatia. I have been involved with South East Europe for much of my career and I am extremely pleased to be coming back to the region to work in such a beautiful country, especially at this fascinating and important time in its history.
"It will be a privilege to be so closely involved with the completion of Croatia's accession to the EU and to help develop the many new links between the UK and Croatia that membership will involve. I have much enjoyed working with Croatian colleagues in the past and have the highest regard for Croatia's contribution to reconciliation and stability across the region".
Full name: David Arthur Slinn
Spouse:
Heidi Alberta Hulan
2009 - 2011 FCO, Head, Afghanistan Drugs and Justice Unit
2008 - 2009 Kosovo, on secondment as Head Mitrovica Office, International Civilian Office
2007 - 2008 Lashkar Gah, Head, Provincial Reconstruction Team (PRT)
2006 Yemen, 6 months voluntary work as Head of a French Development NGO
2002 - 2006 Pyongyang, Her Majesty's Ambassador
2001 - 2002
Skopje, on secondment to NATO
2001 Higher Command and Staff Course (HCSC)
1999 - 2000
Pristina, Head, United Kingdom Liaison Office
1998 - 1999
Belgrade, First Secretary (Political)
1996 - 1998
Belgrade, First Secretary (Commercial)
1995 - 1996
Tirana, Charge d'Affaires
1993 - 1995
FCO, Desk Officer, Albania, Macedonia and Kosovo
1990 - 1993
Pretoria/ Cape Town, Second Secretary, British Embassy,
1987 - 1989
Ulaanbaatar, Deputy Head of Mission
1983 - 1986
Geneva, Third Secretary, UK Delegation to Conference on Disarmament
1981
Joined FCO
Published 7 November 2011