News story
Change of Her Majesty's Ambassador to the Republic of Costa Rica and Non-Resident Ambassador to the Republic of Nicaragua
Mrs Sharon Isabel Campbell has been appointed Her Majesty's Ambassador to the Republic of Costa Rica and her husband Mr Christopher John Campbell has been appointed Non-Resident Ambassador to the Republic of Nicaragua.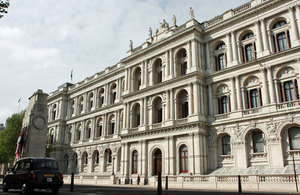 They will succeed to Mr Tom Kennedy who will be transferring to another Diplomatic Service appointment. They will take up their appointments during August 2011.
Sharon and Chris Campbell are career diplomats having joined the FCO in 1983 and 1982 respectively. They have held a range of positions in bilateral and multilateral missions overseas, including four joint postings. Their work has covered a wider range of issues including consular, political and international security policy, commercial diplomacy, immigration work and corporate services. Their most recent London positions have been as Deputy Head of Consular Resources and Head of Peacekeeping in Conflict Group respectively. They have also both previously worked in Ministers private offices in London.
On their appointments as Ambassador to Costa Rica and Non-Resident Ambassador to Nicaragua, Mr and Mrs Campbell have said:
"We are delighted and honoured to be appointed to these positions. It is an exciting time given the FCO's renewed focus on Latin America through its 'Prosperity Agenda'. We also look forward to supporting the already strong trade links with Costa Rica and further developing our commercial partnerships with Nicaragua. Building on the existing links and cooperation between the UK and these two countries, we are looking forward to working closely with both governments on a wide range of issues of mutual interest and benefit."
Curriculum Vitaes
Full name:
Sharon Isabel Campbell
Married to:
Christopher John Campbell
2008 - present
FCO, Deputy Head, Consular Resources Group
2003 - 2007
Brussels, Deputy Head, Joint Management Office
2000 - 2003
Caracas, Senior Management Officer / HM Consul
1996 - 1999
FCO, Assistant Private Secretary to Minister of State
1992 - 1995
Jakarta, Vice Consul
1988 - 1992
Dhaka, Third Secretary Management
1986 - 1988
FCO, Desk Officer, Finance Department
1985 - 1985
Warsaw, Third Secretary
1984 - 1985
FCO, Minister of State's Office
1983 - 1984
FCO, Trade Relations & Exports Department
1983
Joined FCO
Full name:
Christopher John Campbell
Married to:
Sharon Isabel Campbell
2009 - present
FCO, Head of Peacekeeping, Conflict Group
2008 - -2009
FCO, Strategy Manager, International Military Capacity Building, Conflict Group
2003 - 2007
Brussels, Second Secretary, External Relations Policy, UKDEL NATO
1999 - 2003
Caracas, Second Secretary, Commercial
1995 - 1998
FCO, Desk Officer, Polar Regions Section, Overseas Territories Department
1992 - 1995
Jakarta, Third Secretary, Management
1988 - 1992
Dhaka, Third Secretary, Immigration
1985 - 1988
Khartoum, Accountant
1984 - 1985
FCO, Secretary of State's Private Office
1982 - 1984
FCO, North America Department
1982
Joined FCO
Search the news archive
Published 23 June 2011