News story
Change of Her Majesty's Ambassador to the Kingdom of Saudi Arabia
Sir John Jenkins KCMG LVO has been appointed Her Majesty's Ambassador to the Kingdom of Saudi Arabia.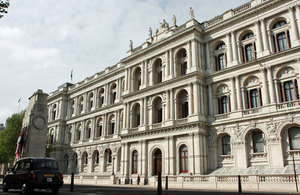 He will suceed Sir Tom Richard Vaughan Phillips KCMG who will be retiring from the Diplomatic Service. Sir John will take up his appointment during June 2012.
Sir John joined the FCO in 1980 and after studying Arabic at SOAS and elsewhere has served mainly in the Middle East and South East Asia. His first posting was to Abu Dhabi. He has been Her Majesty's Ambassador to four countries. He was also Her Majesty's Consul General in Jerusalem and the United Kingdom Special Representative to the Libyan National Transitional Council. He was Director for the Middle East and North Africa in the FCO between 2007 and 2009.
On his appointment Sir John has said "I am delighted and honoured to have been appointed as Her Majesty's Ambassador to the Kingdom of Saudi Arabia. This is our most important diplomatic position in the region. That brings great responsibilities and exciting challenges, especially in this time of change. I am greatly looking forward to working in partnership with the government of Saudi Arabia and building on our already excellent relations to promote a wide range of shared interests. I also want to encourage greater mutual understanding between Britain and the Middle East. There is no better place to do this than from Riyadh. We each have much to contribute to the world and can do so most effectively together.
Curriculum vitae
Full name: John Jenkins
Married to:
Nancy Caroline (nee Pomfret)
Children:
None
Oct 2011 - Nov 2011
Her Majesty's Ambassador to Libya
May 2011 - Oct 2011
Benghazi/Tripoli, UK Special Representative to the NTC/Libya
Dec 2009 - May 2011
Her Majesty's Ambassador to the Republic of Iraq
Sept 2007 - Sept 2009
FCO, Director, Middle East and North Africa
Dec 2006 - Sept 2007
Her Majesty's Ambassador to the Syrian Arab Republic
July 2003 - Dec 2006
Her Majesty's Consul-General, Jerusalem
Aug 1999 - Dec 2002
Her Majesty's Ambassador, Rangoon
Sept 1998 - Apr 1999
Burmese language training, SOAS
May 1995 - Aug 1998
Kuwait, Deputy Head of Mission
May 1992 - Feb 1995
FCO, Assistant Head of Joint Assistance Unit
Jan 1989 - May 1992
Kuala Lumpur, Head of Chancery and later Head of Political Section
Jun 1986 - Jan 1989
FCO, Head of East Africa Section, East Africa Department
Apr 1983 - May 1986
Abu Dhabi, Second later First Secretary
Sept 1981 - Mar 1983
Arabic language training, SOAS, Amman, Damascus
Sept 1980 - Sept 1981
FCO, Desk Officer for Greece
Published 25 April 2012