News story
Change of Her Majesty's Ambassador to the Islamic Republic of Iran
Mr Dominick John Chilcott CMG has been appointed Her Majesty's Ambassador to the Islamic Republic of Iran.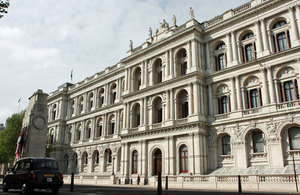 He succeeds Sir Simon Gass KCMG CVO, who has transferred to another Diplomatic Service appointment. Mr Chilcott took up his appointment this month.
Mr Chilcott is a career diplomat who joined the FCO in 1982. Over a career of nearly 30 years to date, he has served overseas in Turkey, Portugal, the UK Permanent Representation to the European Union, Sri Lanka and the US.
On his appointment as Her Majesty's Ambassador to the Islamic Republic of Iran, Mr Chilcott has said "I am very glad to be going to Tehran. Iran is a large, diverse and important country with an extraordinarily rich and historic culture. I look forward to dealing with the issues in our bilateral relations on the basis of dialogue, understanding and mutual respect and to becoming better acquainted with the Iranian people, their complex and vibrant contemporary society as well as their culture and traditions."
Curriculum Vitae
Full name: Mr Dominick John Chilcott CMG
Married to: Jane Elizabeth Chilcott (nee Bromage)
Children: 4 (1 daughter and 3 sons)
2008 - 2011
Washington, Deputy Head of Mission
2006 - 2007 Sri Lanka and Maldives, High Commissioner
2003 - 2006
FCO, Director for Europe (bilateral relations and resources)
2002 - 2003 FCO, Director of the Iraq Policy Unit
1998 - 2002 UK Representation to the EU, Brussels, Counsellor for External Relations
1996 - 1998 FCO, Assistant Private Secretary to the Foreign Secretary
1993 - 1995 Lisbon, Head of political section
1990 - 1992 FCO, Desk officer for EU regional policy and Gibraltar, Europe Directorate
1988 - 1989 FCO, Head of section, Central African Dept
1985 - 1988 Ankara, Third, later Second, Secretary
1984 Full-time Turkish language training
1982 - 1983 FCO, Assistant desk officer, Southern African Dept
Search the news archive
Published 26 October 2011