News story
Change of Her Majesty's Ambassador to Libya
Mr Michael Aron has been appointed Her Majesty's Ambassador to Libya.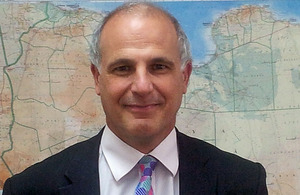 He will succeed Sir Dominic Anthony Gerard Asquith, KCMG, who will be transferring to another Diplomatic Service appointment. Mr Aron, who has been Acting Head of Mission in Tripoli since September, will take up his appointment in January 2013.
Mr Aron joined the Foreign Office in 1984 after studying Arabic and French at Leeds University. He has spent much of his career in the Middle East or dealing with Middle East issues in London and New York.
On his appointment as Her Majesty's Ambassador to Libya, Mr Aron said:
I am delighted to be staying in Libya after three months as acting Head of Mission. Libya is at a critical period in its history and, following on from the important contribution the United Kingdom made to the Libyan Revolution, we are determined to play a major role in support of a successful transition to a democratic state governed according to the rule of law, in line with the wishes of the Libyan people.
Curriculum vitae
| | |
| --- | --- |
| Full name | Michael Aron |
| Married to | Rachel Aron |
| Children | Four |
| | |
| --- | --- |
| Sept 2012 – Present | Tripoli, Acting Head of Mission |
| 2011 – 2012 | Her Majesty's Ambassador, Baghdad |
| 2010 – 2011 | FCO, Head of Middle East Department |
| 2008 – 2009 | Her Majesty's Ambassador, Kuwait |
| 2006 – 2008 | Brussels, EU Director and Head of Scottish Government EU Office |
| 2002 – 2006 | UKRep Brussels, Political Counsellor |
| 1999 – 2002 | Amman, Deputy Head of Mission |
| 1997 – 1999 | FCO, Head of Comprehensive Spending Review Team (1997/98) and then Head of Management Consultancy Services (1998/99) |
| 1996 – 1997 | FCO, Deputy Head of Middle East Department |
| 1993 – 1996 | UK Mis New York, First Secretary Middle East and Cyprus |
| 1991 – 1993 | FCO, Desk Officer, Middle East Peace Process, Near East and North Africa Department |
| 1988 – 1991 | Brasilia, First Secretary Commercial and Economic |
| 1986 – 1988 | FCO, Desk Officer ECD(I) |
| 1986 | Secondment to European Commission |
| 1985 | UK Mis New York, Conference Support Officer 1985 General Assembly |
| 1984 – 1985 | FCO, Assistant Desk Officer for Iran, Middle East Department |
Published 14 January 2013