Change of Her Majesty's Ambassador to Cuba
Mr Tim Cole has been appointed Her Majesty's Ambassador to Cuba.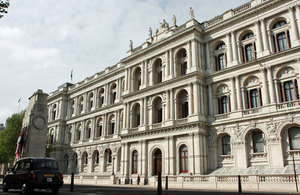 He will succeed Dianna Melrose who will be transferring to another Diplomatic Service appointment. Mr Cole will take up his appointment during August 2012.
Mr Cole joined the FCO in 2001 after several years working for humanitarian NGOs. His career to date has focussed on governance, development and conflict issues. His most recent postings have been in southern Africa as Deputy Head of Mission in Mozambique and Zimbabwe.
On his appointment as Ambassador to Cuba, Mr Cole has said "Cuba is a fascinating country in many ways and it is a great privilege to have been appointed to this post. I look forward to getting to know Cuba and its people and to working with the Cuban government on issues that benefit both our countries. I know that I shall enjoy working with our excellent Embassy and British Council teams to make a positive difference on behalf of the United Kingdom."
Curriculum vitae
Full name: Timothy Marcus Cole
Married to:
Clare
Children:
Jonathan and Zea
August 2009 - Present
Harare, Deputy Head of Mission
August 2006 - July 2009
Maputo, Deputy Head of Mission
January - July 2006
Language training (Portuguese)
June 2003 - Dec 2005
FCO, Head of Pan-Africa Policy Unit/Conflict Adviser
Dec 2002 - June 2003
FCO, Africa Policy Co-ordinator, Pan-Africa Policy Unit
Oct 2001 - Dec 2002
FCO, Head of Global Economic Issues, Economic Policy Dept
June 1999 - Aug 2001
Save the Children UK, Programme Director, Democratic Republic of Congo
April 1997 - June 1999
Christian Aid, Head of Great Lakes Region
Feb 1995 - April 1997
Christian Aid, Senior Programme Officer, Great Lakes Region
July 1993 - Feb 1995
Christian Aid, Assistant European Community Officer
Published 13 April 2012