Change of Governor to Bermuda
Mr George Fergusson has been appointed Governor of Bermuda in succession to Sir Richard Gozney KCMG CVO, who will be retiring from the Diplomatic Service.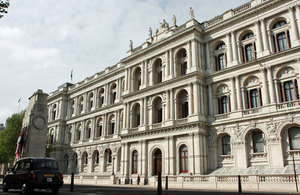 Mr Fergusson will take up his appointment during May 2012.
Mr Fergusson joined the FCO in 1991 from the Northern Ireland Office. His last overseas posting was as the British High Commissioner to New Zealand and Samoa, and Governor of Pitcairn. He was previously Consul-General in Boston; and also served as Head of the Foreign Policy Team in the Cabinet Office Secretariat.
On his appointment as Governor to Bermuda, Mr Fergusson said:
"I am delighted to be appointed as Governor. I am an admirer of Bermuda's great combination of sophisticated business and well preserved history. And I look forward to working with the people of Bermuda and their representatives to play my part in maintaining Bermuda's high reputation as one of the best places to live, visit and do business."
Curriculum vitae
Full name:
George Duncan Raukawa Fergusson
Married to:
Margaret (Wookey), career officer with British Council
Children:
Three daughters, one son (deceased)
2010-Present
Attachments in the FCO and Cabinet Office
2006-2010
High Commissioner, Wellington and Non-Resident High Commissioner to Samoa and Governor of Pitcairn
2003-2006
Cabinet Office, Head of Foreign Policy Team in Overseas & Defence Secretariat
1999-2003
HM Consul-General Boston
1997-1999
FCO, Head, Republic of Ireland Department (later Devolved Administrations Department)
1996-1997
FCO, Deputy Head, Africa Department (South)
1994-1996
Seoul, First Secretary (Political/Public Affairs)
1991-1993
FCO, Soviet/Eastern Department
1978-1991
Northern Ireland Office: in Belfast and London, including as Head of Human Rights and Elections branch, Private Secretary to the Minister of State responsible for police, prisons and constitutional development; and a secondment from 1988-91 to the British Embassy in Dublin as 1st Sec (Political).
Search the news archive
Published 31 January 2012