Press release
Change of Governor of Gibraltar
Lieutenant-General Sir James Benjamin Dutton KCB CBE has been appointed Governor of Gibraltar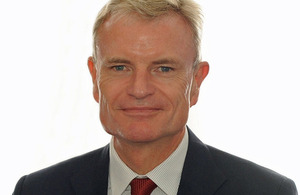 He will succeed Vice-Admiral Sir Adrian Johns KCB CBE. Sir James will take up his appointment during December 2013.
Sir James completed a full career of 37 years in the Royal Marines. His last ten years were dominated by Iraq and Afghanistan, either serving in those countries or dealing with the policy and operational issues from London and Washington DC.
On retirement in 2010 he joined the Bechtel Corporation and has spent the last two and a half years as the Programme Director in Gabon in West Africa, latterly as the Director-General of the infrastructure development agency working directly for the Presidency.
On his appointment as Governor of Gibraltar, Sir James has said:
I am delighted and honoured to be going to Gibraltar, especially given its historical connections with the Royal Marines. I hope that my many years of military experience combined now with three years of commercial experience will equip me well to deliver the Governor's role and responsibilities toward Gibraltar and the United Kingdom.
My wife and I are looking forward to meeting the people of Gibraltar.
Curriculum vitae
| Personal details |   |
| --- | --- |
| Full name: | Lieutenant-General Sir James Benjamin Dutton KCB CBE |
| Married to: | Elizabeth Dutton |
| Children: | One son, one daughter |
| Period | Post |
| --- | --- |
| Apr 2011 – present | Programme Director (Gabon) for Bechtel Corporation |
| May 2010 – Apr 2011 | Operations Manager (London, Qatar, UAE) for Bechtel Corporation |
| Nov 2008 – Nov 2009 | Deputy Commander, International Security and Assistance Force, Kabul, Afghanistan |
| Feb 2007 – Oct 2008 | Deputy Chief of Joint Operations, Permanent Joint Headquarters, Northwood |
| Apr 2006 – Dec 2006 | Chief of Staff (Capability) to the Commander in Chief FLEET, UK |
| May 2004 – Mar 2006 | Commandant General, Royal Marines and Commander UK Amphibious Forces |
| Jul 2002 – May 2004 | Commander, 3 Commando Brigade, Royal Marines |
| Oct 2001 – Jul 2002 | Chief of Defence Staff's Liaison Officer to the US Chairman of the Joint Chiefs of Staff, Washington DC |
| Jan 2001 – Oct 2001 | Royal College of Defence Studies |
| Oct 1998 – Dec 2000 | Ministry of Defence, Director North Atlantic & Western Europe, later Director NATO |
| Jun 1996 – Sep 1998 | Commanding Officer, 40 Commando, Royal Marines |
| Sep 1972 – Jun 1996 | Various roles as an Officer in the Royal Marines |
Further information
Follow the Foreign Office on twitter @foreignoffice
Follow the Foreign Office on facebook and Google+
Published 19 September 2013