Change of British High Commissioner to the Seychelles
Mrs Lindsay Samantha Skoll has been appointed British High Commissioner to the Republic of Seychelles.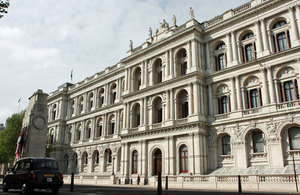 She will succeed Mr Matthew Forbes OBE who will be transferring to another Diplomatic Service appointment. Mrs Skoll will take up her appointment during July 2012.
Mrs Skoll joined the Diplomatic Service in 1996 and has carried out a wide variety of roles in London, most recently as Deputy Head of the Climate Change and Energy Department in FCO. Her last overseas posting was to Pyongyang, where she was Deputy Head of Mission.
On her appointment as British High Commissioner to the Republic of Seychelles, Mrs Skoll said:
"I am honoured and delighted to be appointed British High Commissioner to the Republic of Seychelles. I am greatly looking forward to taking up my post and furthering our already strong bilateral history and relationship. I am also pleased that United Kingdom and Seychelles will work ever more closely on tackling issues of international concern and security, such as our joint work on anti-piracy. The Republic of Seychelles is a fascinating and beautiful part of the world, and I am thrilled to have the opportunity to get to know its people and islands."
Curriculum vitae
Full name:
Lindsay Samantha Skoll (nee Stent)
Married to:
Richard Skoll
Children
1 son; 2 step-children
Sept 2010 - present
FCO, Deputy Head (Climate), Climate Change and Energy Department
June 2010 - Sept 2010
FCO, Policy Secretary to the Gulf and UAE Initiatives, Middle East North Africa Directorate
April 2007 - May 2010
Maternity Leave and Special Unpaid Leave
Nov 2006 - March 2007
FCO, Whitehall Liason Department
Oct 2004 - Nov 2006
Pyongyang, Deputy Head of Mission
Nov 2002 - Sep 2004
Secondment to Cabinet Office
Aug 2002 - Nov 2002
Full Time Language Training, Japanese
Dec 2001 - July 2002
FCO, Head, Korea and Mongolia Section, North East Asia Pacific Department
Jan 1999 - Nov 2001
FCO, Head, VIP Visit Section, Conference and Visits Group
June 1997 - Dec 1998
FCO, Media Services Officer for CHOGM, EU Presidency and G8
Sept 1996 - May 1997
FCO, Information and Visits Officer, Information Department
Published 20 March 2012