News story
Change of British High Commissioner to the Republic of Namibia
Mrs Marianne Young has been appointed British High Commissioner to the Republic of Namibia.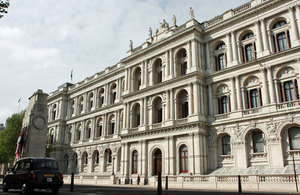 She will succeed Mr Mark Bensberg who will be transferring to another Diplomatic Service appointment. Mrs Young will take up her appointment during June 2011.
Mrs Young joined the FCO in 2001 and is currently serving as the Head of the External Political Section and Deputy High Commissioner to the Kingdoms of Lesotho and Swaziland at the British High Commission in Pretoria. In Pretoria, she has been actively engaged on a broad range of regional security, conflict, governance and development issues for southern Africa.
Mrs Young joined the FCO in 2001 following a career in international journalism, including time spent running an Asian maritime press office in Singapore and a traineeship on the UK's Times newspaper.
Her first role in the FCO was as a Press Officer in News Department, after which she went on to be Head of the Great Lakes Section in Africa Directorate and then Head of the East Africa & Horn Section.
In 2005, she became the first Head of Communications for the Engaging with the Islamic World Group before moving to her posting in South Africa in January 2007.
On her appointment as British High Commissioner to the Republic of Namibia, Mrs Young said:
"I am honoured and delighted to be appointed Her Majesty's High Commissioner to Namibia. I look forward to working to strengthen the many commercial, political and cultural ties between our two countries, and to help the many British nationals who holiday there. My family and I are particularly thrilled to be remaining in southern Africa - and to have the opportunity to explore this beautiful country further and discover more about its people and culture."
Curriculum vitae
Full name:
Marianne Young
Married to: Barry Young
Children: Two daughters and one son
2007 - present Pretoria, Head of External Political Section and DHC for the Kingdoms of Lesotho and Swaziland
2005 - 2006 FCO, Head of Communications, Engaging with the Islamic World Group
2004 - 2005 FCO, Head of East Africa & Horn Section, Africa Directorate
3/2003 - 8/2003 FCO, Head of Great Lakes Section, Africa Directorate
2002 - 2003 FCO, Press Officer, Press Office
2001 - 2002 FCO, Departmental Report Editor, Press Office
2001
Joined FCO
2000-2001
Senior Correspondent, Fairplay Group, UK
1995-2000
Staff Editor and then Asia Editor, Fairplay Group Singapore
1994-1995
Graduate Trainee at The Times newspaper, UK
Published 23 December 2010