News story
Change of British High Commissioner to the Republic of Kenya
Dr Christian Turner has been appointed British High Commissioner to the Republic of Kenya.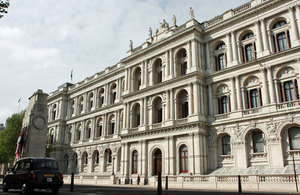 He will succeed Mr Robert Macaire who has left the Diplomatic Service.
Dr Turner will take up his appointment in June 2012; Dr Peter Tibber will continue as interim High Commissioner until then.
Dr Turner is currently the Director for the Middle East and North Africa in the Foreign and Commonwealth Office, where he has responsibility for all UK policy and operations in that region. Prior to this he served variously in the British Embassy in Washington, as Private Secretary to the Prime Minister and in the Prime Minister's Strategy Unit. This followed work in television and completion of his PhD research. He is married to Claire and they have a son and a daughter.
On his appointment as British High Commissioner to the Republic of Kenya, Dr Turner has said: "I am honoured to have the opportunity to serve in Kenya at such a pivotal period. I will do all I can to deepen the strong and historic ties between our two countries, and to bring energy and experience to further our shared political, economic and security objectives."
Christian Turner was appointed CMG in the in the 2012 New Years Honours for his contribution to British Foreign policy.
Curriculum vitae
Full name:
Dr Christian Philip Hollier Turner
Married to:
Mrs Claire Turner
Children:
2
Nov 2009-present
FCO, Director Middle East and North Africa
April 2008-Nov 2009
FCO, Deputy Director Middle East and North Africa
Sept 2007-April 2008
Cabinet Officer, Deputy Director Middle East, North Africa and North America, Overseas and Defence Secretariat
June 2007-Sept2007
No10, Private Secretary to the Prime Minister
Oct 2006-July 2007
Tehran, Deputy Head of Mission Designate (postponed)
2003-2006
British Embassy Washington, First Secretary
2002-2003
Prime Minister's Strategy Unit
2001-2002
Private Secretary to Minister of State, Cabinet Office
1999-2000
Secretary to Economics and Domestic Committees of Cabinet
1998-1999
Secretary to Better Regulation Task Force
Published 13 February 2012