News story
Change of British High Commissioner to Solomon Islands
Mr Dominic Meiklejohn OBE had been appointed British High Commissioner to Solomon Islands.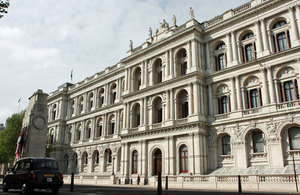 He will succeed Mr Timothy Smart, who has transferred to another Diplomatic Service appointment. Mr Meiklejohn will take up his appointment during May 2012.
Mr Meiklejohn joined the FCO in 1990 and has served in Poland, Albania, Iraq and the USA, as well as various posts in the FCO in London.
On his appointment as British High Commissioner to the Solomon Islands, Mr Meiklejohn said:
"I am honoured to be appointed to this Post. This year the United Kingdom and Solomon Islands will celebrate the Diamond Jubilee of Her Majesty The Queen's accession to the throne. We look forward to the visit of Their Royal Highnesses The Duke and Duchess of Cambridge to Solomon Islands in September to mark the Jubilee. I look forward to building on the existing close relationship between the United Kingdom and Solomon Islands."
Curriculum vitae
Full name:
Dominic Francis Meiklejohn OBE
Married to:
Joanne Meiklejohn
Children
One
Jan 2008-present
New York, Deputy Consul-General
Feb 2006-Feb 2007
Basra, Deputy Consul-General
2004
FCO, Deputy Head, Environment Policy Department
2000-2003
Warsaw, First Secretary
1998-1999
FCO, Head of India Team
1997
Tirana, OSCE mission/FCO
1993-1996
Head, British Know-How Fund, British Embassy
1990-1992
European Community Department (External)
Published 19 March 2012