Change of British High Commissioner to Nigeria
Mr Andrew Lloyd MBE has been appointed British High Commissioner to the Federal Republic of Nigeria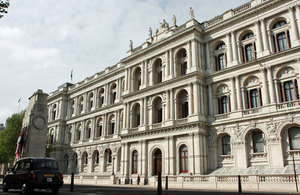 He will succeed Mr Robert Dewar CMG who will be retiring from the Diplomatic Service. Mr Lloyd will take up his appointment in early 2011.
Andrew Lloyd has been Director, Corporate Services, at the Foreign and Commonwealth Office (FCO) since June 2008 - aiming to reform the way the FCO runs its people, buildings and money.
Until 2008, Andrew was the FCO Director for Africa - the senior foreign policy adviser on Africa to the British Foreign Secretary, also responsible for leading a network of 30-plus British Embassies, High Commissions and other posts around Africa.
From 2000 to February 2002, Andrew was head of the British Diplomatic Office in Kosovo, leading the British diplomatic effort to end the conflict between Serbia and Kosovo, where he was closely involved in the establishment of Kosovo's self-government and democratic institutions.
Andrew has previously served as British spokesman at the United Nations and delegate to the UN Security Council in New York, as Economic Secretary at the British Embassy in South Korea, as a Visa/Information officer in Nigeria, and a trade policy official at the British Embassy in Washington.
He has a BSc in Financial Economics from the University of London, and MBAs from London Business School and Columbia University, New York. He has attended the Royal College of Defence Studies (2003) and the Civil Service Top Management Programme (2007/8). From 2006 to 2008, he was a Governor of the School of Oriental and African Studies. He was awarded an MBE for services to British Industry in 1995. He is married to Tania Mechlenborg and has three children.
On his appointment as British High Commissioner to Nigeria, Mr Lloyd has said "I am delighted and honoured to be appointed High Commissioner to Nigeria, a country with whom Britain enjoys strong and shared interests, and which is so important to the future success and stability of much of Africa".
Curriculum vitae
Full name: Andrew Lloyd
Married to: Tania Mechlenborg
Children: 2 sons, 1 daughter
2008 - present FCO, Director, Corporate Services
2006 - 2008 FCO, Director, Africa
2003 -2006 FCO, Head, Africa Department (Southern)
2003 Royal College of Defence Studies
2000 - 2002 Pristina, Head, British Office
1995 - 2000 New York (UKMIS), Spokesman and Security Council Delegate
1993 - 1995 Seoul, Economic Secretary
1992 - 1993 FCO, Conference on Security and Cooperation in Europe Unit
1990 - 1991 FCO, Protocol Department
1987 - 1990 Kaduna, Third Secretary, British Deputy High Commission
1984 - 1987 Washington DC, Trade Policy Section
1982 - 1984 FCO, Middle East Department
1982 Joined FCO
Published 27 July 2010