News story
Change in membership in the Expert Advisory Panel
Jacqui Featherstone joins the Morecambe Bay Investigation expert advisory panel.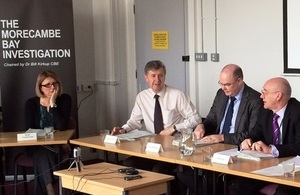 Anne Thomas, whose appointment was announced by the Investigation Chairman, Dr Bill Kirkup, on 1 November has, regrettably, had to step down from her position on the expert advisory panel. Anne was the panel's expert advisor on Midwifery.
The Chairman has welcomed Jacqui Featherstone, Head of Midwifery at The Princess Alexandra Hospital NHS Trust, Harlow to the Investigation as the expert advisor on midwifery.
Published 6 December 2013
Last updated 6 March 2014
+ show all updates
image added
First published.