News story
Chancellor welcomes massive housing boost from Persimmon
Persimmon to build over 80,000 homes and create 1,000 jobs over the next five years.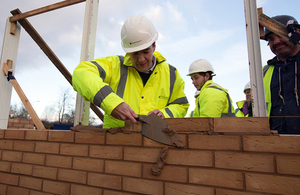 Chancellor of the Exchequer George Osborne has visited a Persimmon housing development in South Ockenden, Essex, where he welcomed the house builder's announcement that it will build over 80,000 homes and create 1,000 jobs over the next five years.
The announcement came just a day after the Chancellor confirmed the biggest affordable house building programme since the 1970s' to help working people who aspire to buy their own home and boost plans to get Britain building
The 1,000 new employees will join Persimmon's existing 4,500-strong workforce, which in the past year has included 200 young apprentices. The company started work on 250 new developments around the country in 2015, including the Arisdale Place development in South Ockenden, which when finished will be made up of 185 homes.
Persimmon, one of the UK's biggest building firms, opened two new regional businesses in 2015 in the Northern Powerhouse (Durham) and Midlands Engine (Birmingham) and plans to open a further two businesses in 2016 in Cornwall and Perth.
Speaking in South Ockenden, George Osborne said:
One of this government's key priorities is backing families who aspire to own their own home. We made a start tackling the home ownership crisis in the last Parliament, now we will do much more to turn Generation Rent into Generation Buy.

The action I announced yesterday will help deliver 400,000 affordable new homes by the end of the decade, the biggest building programme by any government since the 1970s. We are the builders, and we choose to build the homes that people can buy.
Jeff Fairburn, Persimmon's group Chief Executive, said:
Home ownership continues to be an aspiration for the majority of British people and these latest initiatives announced yesterday by the Chancellor should help that dream become a reality for many more people.

Persimmon prides itself on building homes that people can afford to buy in quality locations. Most of our buyers are looking to stay in their local area and this is exactly what we deliver.

Now is a great time to buy, with lenders increasing the number of mortgage products available. The new schemes announced yesterday, which include Help to Buy Shared Ownership, London Help to Buy and the Starter Home initiative will all help even more people into home ownership.

We are fortunate to have a committed and very experienced team at Persimmon. We have taken on 140 ex-service personnel this year in addition to 200 young apprentices. In 2016 we will be turning our attention to people who feel they missed out on a traditional apprenticeship and will be offering fully-paid apprenticeships to more mature workers through our Upskill to Construction programme.
The Chancellor's Autumn Statement included a number of measures designed to help people get on the housing ladder. The government will:
release public land suitable for 160,000 homes and re-designate unused commercial land for Starter Homes
extend loans for small builders, regenerate more run-down estates and invest over £300 million in delivering at Ebbsfleet, the first garden city in nearly a century
help address the housing crisis in our capital city with a new scheme – London Help to Buy
londoners with a 5% deposit will be able to get an interest-free loan worth up to 40% of the value of a newly-built home
introducing new rates of Stamp Duty Land Tax that will be 3 per cent higher on the purchase of additional properties like buy-to-lets and second homes. This is part of the government's commitment to support homeownership and first-time buyers
Published 26 November 2015
Last updated 26 November 2015
+ show all updates
persimmon quote added
First published.