News story
Chancellor welcomes London renminbi clearing bank
First renminbi clearing bank outside Asia appointed in London.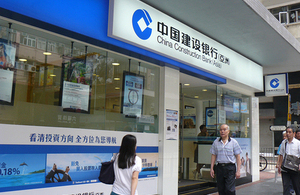 The Chancellor has today (18 June 2014) welcomed the People's Bank of China's appointment of China Construction Bank (CCB) in London as the first clearing bank outside Asia for the Chinese currency, the renminbi (RMB).
This appointment further strengthens London's position as a centre of RMB trading and is part of the government's long-term economic plan to establish Britain as the western hub of Chinese finance, with two thirds of all RMB payments outside of China and Hong Kong now taking place in London.
This appointment will complement the existing clearing and settlement infrastructure for RMB trading in Hong Kong and ease the transfer of funds in the western time zone.
The UK was the first G7 country to agree a RMB swap line with the People's Bank of China, following the Bank of England's agreement on clearing and settlement arrangements in March. The appointment of a Chinese bank, CCB, as an RMB clearing bank in London is the logical next step and will give the UK's global financial services sector the confidence and infrastructure it needs to expand their RMB activities.
China Construction Bank (CCB) is one of the big four banks in China, and in 2011 was the second largest bank in the world by market capitalisation, and 13th largest company in the world. CCB opened its London office in 2009.
George Osborne, Chancellor of the Exchequer, said:
Connecting British firms and markets to China's extraordinary expansion is a key part of our economic plan, because it brings jobs and investment to our country.

Since I launched our drive to become a hub for offshore renminbi trading, the market has grown and grown and now almost two thirds of all renminbi trading outside of Mainland China and Hong Kong take place in London.

Chinese bonds are now issued in Britain, Chinese assets are being managed here and now the first Chinese clearing bank outside Asia is opening in London.

The appointment of China Construction Bank (CCB), as a renminbi clearing bank is great news and I welcome today's appointment as another major step forward for the UK as the western hub of Chinese finance.
Image by Swire on Flickr. Used under creative commons.
Published 18 June 2014