News story
Chancellor welcomes boost to Nottingham economy
Chancellor visits Alliance Boots to welcome their announcement that three new firms have moved to MediCity, helping boost the local economy.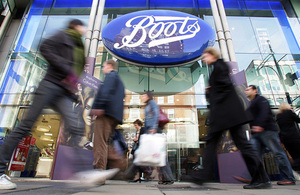 Chancellor of the Exchequer, George Osborne, today (6 October 2014) visited Boots headquarters in Nottingham to see the work the company has been doing to support the next generation of healthcare companies at Medicity.
The Chancellor in his address to staff at the site, welcomed the announcement that three new firms have moved to MediCity, bringing the number of business on the site to 24.
Boots UK, established over 160 years ago in Nottingham, is a member of Alliance Boots, the UKs leading pharmacy-led health and beauty retailer. They employ over 62,000 people in 2,500 stores across the UK, and remain one of Nottingham's largest employers.
The Alliance Boots site in Beeston falls within the Nottingham Enterprise Zone, and MediCity was the first new business to be opened on the site.
MediCity, a collaboration between Boots UK and BioCity, provides a stimulating and supportive business development environment for innovators in consumer healthcare, medical technology, diagnostics, and beauty products.
New companies are provided with the technical and commercial advice they need to develop and grow their ideas.
George Osborne said:
Boots is a thriving British Brand, and it is great to see it extending its support to the next generation of healthcare companies at MediCity.
Britain is a world leader in the healthcare industry driven by companies like Boots UK, which is why this government will continue to support the sector as part of our long-term economic plan.
Ken Murphy, Managing Director, Health & Beauty International and Brands, Alliance Boots said:
We are delighted to be hosting the Chancellor at the Alliance Boots site in Beeston. Boots has a long history of innovation here in Nottingham and it is a pleasure to showcase our legacy and the investment we continue to make for the future.
We have demonstrated the cutting-edge product innovation happening in our laboratories on site and how our expertise is supporting a new generation of innovative companies now resident in MediCity. This hub of innovation - with its primary focus on health, beauty and wellness – is generating real opportunities for new businesses and I believe will contribute to long term wealth and employment generation here in Nottingham.
Further information
Three companies joined the growing MediCity community of new and expanding businesses in September. From next-generation sun creams to mobile healthcare apps, the companies are making the most of the latest technology, data sharing and wearable devices to tackle common conditions such as diabetes, heart conditions and Alzheimer's. MediCity is now supporting 24 innovators in consumer healthcare, medical technology, diagnostics, and beauty products from its base on the Boots Enterprise Zone in Beeston, Nottingham.
Skinnovation Ltd has already established a strong reputation in the cosmetics industry for its research and development into sun protection products, as well as its consultancy to advertising regulatory bodies. The company was started by two former Boots employees Dr Jack Ferguson and Jo Warren and will use MediCity as a base for its formulation development activity. Dr Ferguson is also a scientific programme organiser for international skin care sector conferences

Mobile monitoring of patient health lies behind FirstApp, the software developer founded in 2011 by Justin Johnson and Simon Morris. The company is working with a range of technology partners to create devices to gather and share data, as well alert the patient as well as health professionals to any issues. With the growth in wearable technology and the development of biometric monitoring, FirstApp has chosen MediCity to be near other entrepreneurs in the emerging mHealth market

Team Blood Glucose Ltd launched in 2013 to work with people with diabetes and those at risk of developing the condition. Through a national sports and exercise programme, the team at TeamBG are raising awareness of the importance of activity for the management of diabetes. TeamBG recently completed a 2,400km cycle challenge between Barcelona and Vienna, and used the 33,000m of climb to monitor cyclists' nutrition and subsequent blood glucose levels. The health data collected is being used for research by Imperial College in the development of products and services to help prevent, manage and treat diabetes
About Alliance Boots
Alliance Boots is a leading international pharmacy-led health and beauty group delivering a range of products and services to customers. Working in close partnership with manufacturers and pharmacists, we are committed to improving health in the local communities we serve and helping our customers and patients to look and feel their best. Our focus is on growing our two core business activities of: pharmacy-led health and beauty retailing and pharmaceutical wholesaling and distribution, while increasingly developing and internationalising our product brands

Alliance Boots has a presence in more than 27* countries and employs over 120,000* people. We have pharmacy-led health and beauty retail businesses in 11* countries and operate more than 4,600* health and beauty retail stores, of which more than 4,450* have a pharmacy, with a fast growing online presence. In addition, Alliance Boots has around 600* optical practices, of which around 180* operate on a franchise basis, and hearingcare services in around 430* locations. Our pharmaceutical wholesale businesses deliver over 4.5* billion units each year to more than 180,000* pharmacies, doctors, health centres and hospitals from over 370* distribution centres in 20* countries

In June 2012, Alliance Boots announced that it had entered into a strategic partnership with Walgreen

Co. (Walgreens), the largest drugstore chain in the US. In August 2014, Alliance Boots and Walgreens communicated that they plan to merge in the first quarter of calendar 2015 to create the first global pharmacy-led, health and wellbeing enterprise, which will be named Walgreens Boots Alliance
Figures followed by * are approximations as at 31 March 2014, with the addition of Farmacias Ahumada data at the date of its acquisition on 11 August 2014, and include associates and joint ventures.
Published 6 October 2014