News story
Chancellor visits small business, Rotunda Living to see how a government start up loan has helped their rapid expansion
Small business, Rotunda Living in Hazel Grove is to expand its workforce by a quarter.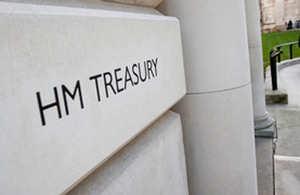 Chancellor of the Exchequer, George Osborne, accompanied by Minister for Women and Equalities Nicky Morgan, today visited small business, Rotunda Living in Hazel Grove to welcome the company's announcement to expand their workforce by a quarter.
The decisions comes as the company expects to double its revenues from last year, and follows them doubling their workforce over the last 18 months.
Rotunda Living which received a start-up loan in 2013, manufactures and constructs timber round houses currently used as extensions, holiday lodges, and studios. The company, founded and run by Gemma Roe, was launched in July 2012, two weeks after Gemma had her first child. In 2013 the company received £7,700 from Start-Up Now, the North West arm of the governments national £150 million Start Up Loans programme.
Rotunda Living was recently awarded a contract to build the country's first completely round eco-classroom for a primary school in the East Midlands. They also recently sold their first complete home. The company is now drawing up plans to expand overseas.
The visit formed the construction element of the Chancellors regional tour highlighting the role of women in the economy, which came as new HM Treasury analysis was published showing strong female employment in all four sectors of the economy, primarily in highly skilled occupations.
The government has prioritised key policies to help support women into work, including tax free childcare, flexible working and shared parental leave. The government has also provided support to women who want to set up their own business and contribute to the economy, including investing £1.6 million to support rural women's businesses and £1.9 million in the Get Mentoring project, which has recruited and trained over 15,000 volunteer business mentors. Further support is available on the Business is Great: Women in enterprise webpage.
George Osborne said:
Encouraging new entrepreneurs to start their business is central to our long term economic plan so I was very pleased to visit Rotunda, a brilliant British start-up to see their innovative products and hear about their plans to expand into new markets.

It is fantastic that Gemma was able to access funding and support from the government to help her grow her business. As a government we are determined to back as many people as Gemma through start up loans.
Nicky Morgan said:
It's fantastic to see women founding companies and contributing to the economy. We have more women in work than ever before, and women are now running more than a million small businesses in the UK, contributing more than £80bn to the economy.

I want women to know that more support than ever is available to run their own businesses. We've provided over £1 million to support women to move their businesses on-line and have invested £1.9 million in the Get Mentoring project, which has recruited and trained over 15,000 volunteer business mentors.
Gemma Roe, Founder and CEO Rotunda Living, said:
I am delighted to have the opportunity to show the Chancellor Rotunda, especially as today we announce that three extra people will join the company. It was only 10 months ago that with the help of a Start-Up loan I was able to finance my business whilst coping with the very early days of motherhood.

Now as we reach 15 employees and embark on the 20th Rotunda I look forward to expanding the business to help schools, Eco-tourism sites and community projects.
Published 23 October 2014