Chancellor urges EU to make the most of the Single Market
Fully-working Single Market has potential to create an additional 350,000 jobs in UK.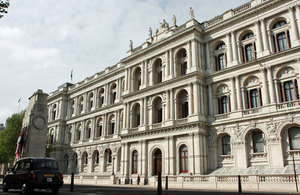 Chancellor George Osborne highlighted the potential of the Single Market to boost jobs and growth across Europe at a regular meeting of European Finance Ministers in Brussels on 18 January.
A series of ideas from the European Commission intended to re-invigorate the Single Market, known as the Single Market Act, were discussed at the meeting. A fully-working Single Market has the potential to create an additional 350,000 jobs in the UK.
The Chancellor said:
"The EU must tackle head-on the issues holding back confidence and growth. Because jobs and incomes are what count for families everywhere in Europe.
"That's why today's discussion of proposals that could support an additional 2.75 million jobs across Europe over the next decade is so important. The test for our Single Market is whether we can make it easier for firms and shoppers to buy and sell across borders and quicker for entrepreneurs to start their own business at home and across Europe."
The UK wants to see the full implementation of the EU Services Directive, which makes it easier for service businesses (e.g. accountants, builders, vets, travel agents, hairdressers) to set up or sell their services anywhere in Europe.
The Services Directive across the EU could deliver around 600,000 new jobs in the UK and it is estimated to be worth about £4-6 billion per annum to the UK economy with the UK forecast to be the second largest beneficiary in Europe.
It is also important to improve the business environment for enterprises by removing barriers to cross-border trade and creating a framework that gives UK businesses and consumers more confidence in selling and buying goods online.
The UK is also keen to enhance the stability of European economies through greater transparency in financial markets, and independent supervision of the financial sector, which will restore market confidence and benefit UK businesses.
Published 21 January 2011