Press release
Chancellor sees bright future for Britain's world-leading innovative industries
Some of Britain's cutting-edge 'disruptor' companies and leading academics met with the Chancellor today to explore how new technologies are contributing to the UK economy.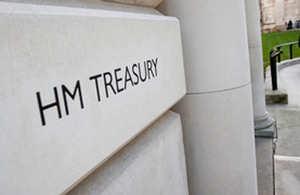 The event was part of a series of roundtables the Chancellor, Philip Hammond, is having with a cross section of British industries in the lead up to his first Autumn Statement.
Representatives today included Razwan Ghafoor, Co-Founder of ThirdEye and Jessica Butcher, the Co-Founder of Blippar.
The Chancellor said:
Britain is a world-leader in innovative industries and today I met with some of our brightest technology pioneers.

We discussed the great potential offered by developments in artificial intelligence, bio-tech, med-tech, robotics, driverless cars and virtual reality.

The UK is in prime position to lead the way and capitalise on the results thanks to our tech-friendly environment, highly-skilled workforce, top-ranked academic institutions, and our superb research and development sector – which already contributes more than £30 billion to the UK economy.
Jessica Butcher, Director and Co-founder, Blippar said:
I'm excited to be taking part in the Chancellor's tech roundtable and delighted to see the immediate attention that the new government is giving to this vital and world-leading sector of the British economy.
Razwan Ghafoor, co-founder, ThirdEye said
The UK has the best universities in Europe and is a world leader in artificial intelligence research. The roundtable was a great way to discuss with the government how UK tech start-ups can capitalise on this position and be in the epicentre as artificial intelligence significantly changes the way we live.
The UK is already a global hub for Artificial Intelligence (AI), with Google basing its AI functions in London. New AI applications are rapidly emerging in areas as diverse as transport, manufacturing and health – where new technologies could lead to rapid diagnosis and more innovative, personalised treatments.
Britain has also led the development of advanced chip technology, which will be supplying a global market worth £125 billion by 2025, and is the biggest market in Europe for online retail, underpinned by sophisticated and rapidly developing technology driven by trends such as mobile shopping.
In transport, the government has championed the technology behind driverless cars, providing £100 million for R&D investment, and Volvo recently announced that it will start testing its driverless technologies in and around London in 2017.
Meeting attendees:
Philip Hammond, Chancellor of the Exchequer
David Stokes, CEO, IBM UK and Ireland
Razwan Ghafoor, Co-founder, ThirdEye
Professor Nigel Harris, Director, Designability
Professor Paul Newman, BP Professor of Information Engineering, University of Oxford
Dr Eoin O'Sullivan, Director, Centre for Science, Technology & Innovation Policy, Cambridge University
Andrew Burford, Head of Entrepreneurship, Grantham Institute for Climate Change
Jessica Butcher, Director and Co-founder, Blippar
Rupert Lewis, Director, Government Office for Science
Stan Boland, CEO, Five AI
Professor Tim Dafforn, Chief Scientific Adviser, BEIS
Published 22 September 2016