News story
Chancellor re-appoints Ian McCafferty to the Monetary Policy Committee
Chancellor announces reappointment of Ian McCafferty and that the process for appointing David Miles' successor will begin shortly.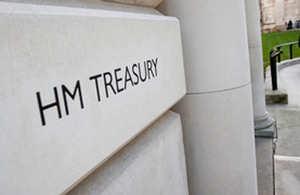 The Chancellor today announced the re-appointment of Ian McCafferty as an external member of the Monetary Policy Committee (MPC).
Ian McCafferty's second term on the MPC will begin on 1st September 2015 and end on 31st August 2018.
The Chancellor also announced today that the process to appoint a successor to Professor David Miles, who reaches the end of his second term at the end of August, will begin shortly.
George Osborne, the Chancellor of the Exchequer said:
I am delighted to announce Ian's re-appointment to the MPC. Ian has made a tremendous contribution to the work of the MPC during his current term, bringing a valuable perspective from his extensive work with business and industry. I am pleased that Ian will continue bringing his experience to bear in a second term on the MPC.

I also want to put on record my thanks to David Miles for his service to the MPC, which has benefited enormously from both his expertise and insightful contributions during his time in office. The process for appointing his successor will begin next week.
Published 20 May 2015