News story
Chancellor and Foreign Secretary in India
Trip will include meetings with the Indian government - including Prime Minister Modi - and Indian business leaders.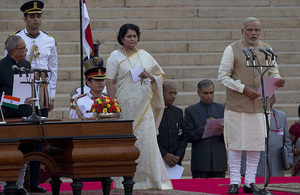 Speaking at the start of trip they will say that "good days are coming for the India-Britain relationship"
Discussions with government will focus on strengthening further diplomatic ties and developing partnership on economic reforms, especially on infrastructure investment and financial services
At start of trip, Chancellor will announce Indian R & D investment in Britain by car giant Mahindra and pharmaceutical company Cipla
Foreign Secretary will announce expansion of Chevening scholarships for Indian students in Britain
The Foreign Secretary and Chancellor will begin a two day visit to India today (Monday 7 July) with the newly elected Indian government.
Identifying that Britain's relationship with India stands out for its "depth and its future prospects," they will say that "good days are coming for the India-Britain relationship."
Their visit will include a meeting with Prime Minister Modi, as well as the Finance and Foreign Ministers, and is the first of British ministers to India since the new government came to power.
The Chancellor and the Foreign Secretary will use the trip to support the new government's reform plan and discuss areas where the two governments can work together to the benefit of both countries.
The Foreign Secretary will focus on strengthening further the deep and warm relationship, diplomatic ties and foreign policy and security cooperation between the two countries, as well as on building on Britain's excellent education links with India by increasing the number of Indian students coming to the UK.
The Chancellor will particularly focus on strengthening the economic partnership between the two countries in infrastructure investment and financial services.
In addition to the ministers meeting their opposite numbers Finance Minister, Arun Jaitley and Foreign Minister, Sushma Swaraj; the Chancellor will meet Reserve Bank of India Governor, Raghuram Rajan, the Foreign Secretary will meet Chief Minister of Maharashtra; and both will see Indian business leaders.
Speaking to business, education and civil society representatives in Mumbai at the start of their trip, the Foreign Secretary will say:
One of the fundamental tenets of our government's foreign policy has been that we should set our country firmly on the path to far closer ties with countries across Asia, Africa and Latin America over the next twenty years; and on a completely new footing from the past.

We have shifted our global diplomatic network, opened ten new embassies and sent hundreds more diplomats, with stronger language skills, towards the South and the East.

We do this because we have put Britain's prosperity at the heart of our foreign policy and want to strengthen our ties to the world's most dynamic economies; and because we want to work more closely with a growing circle of nations to tackle the global issues that affect us all.

Our relationship with India stands out for its depth and its future prospects.

As our Prime Minister said on his third trip to India last year – this can be a special partnership, one that connects our dynamic economies to create jobs, growth and prosperity but that also reaches much further, that builds even stronger ties between our societies and that helps us work more closely together on the world stage.

We are here this week because your new government's bold programme of change creates new opportunities to realise that vision. To do so, we want to work more closely together in three areas.

First, we want to be a leading partner as Prime Minister Modi presses ahead with his plans for development and growth benefitting all Indians. We have our own experience of turning around our economy and we want to work with you to accomplish your goals across the board […]

Second, we want to strengthen our educational links because we both benefit hugely from the flow of students, researchers, ideas and expertise.

That is why the UK has welcomed almost 100,000 students from India over the past five years; why we have set aside £50m under our Newton fund for new joint research to tackle global development challenges; and why we have developed a new programme to send 25,000 young British people to study, volunteer and gain work experience in India over the next five years […]

Third, we want to work more closely together in foreign policy to advance our shared interests and values.

In the last few years we have worked closely together during India's time on the UN Security council and we continue to support a permanent seat on that body for India.

We have strengthened our counter terrorism cooperation to tackle the scourge which took such a terrible toll on this city 6 years ago and which you have shown such fortitude in overcoming.

We have started a valuable dialogue on the vital issue of cyber policy, which we must continue to strengthen.

And we have been doing significant work together in Afghanistan to help build peace and prosperity: the UK has helped strengthen the Afghan security forces and India has supported greater regional trade.

Of course, we have different traditions and approaches in foreign policy, which we respect and value. But I firmly believe there is more the UK and India can and should do together in the years ahead not just to advance our shared interests in this region but to tackle global issues that affect us all […]

I believe that in every area there is scope for us to do even more together in the years ahead, in support of India's bold plans for change, and to the benefit of our mutual prosperity and security.

Our relationship is so broad and deep that it is not always obvious when it starts to shift course, but I believe that in the last few years we have set our partnership in a new direction. I hope that in the years to come we can release its full potential.
The Chancellor will say:
It's great to be here at a time when the excitement about the Indian economy, and the optimism about the prospects for future growth are palpable.

And the excitement here is matched by new confidence among international investors abroad in the future of the Indian economy.

It is a measure of the ambition and drive and pace of the new government of Prime Minister Modi, that this complete turn-around in sentiment about the Indian economy has been achieved in just 7 short weeks, since that stunning election victory.

Now, as we learned 4 years ago when we turned around sentiment about the British economy, comes the challenge of turning that optimism into a concrete programme of reform.

We did that in Britain and now Britain is reaping the benefits with the fastest growing advanced major economy in the world, the deficit set to have halved, and a record number of Britons in work.

Your Budget is just a few days away - and expectations are high.

I have every confidence Arun Jaitley and the whole government will meet those expectations and succeed.

My message to this formidable team of reformers is the same as my message to you today.

To adopt a phrase from Prime Minister Modi: good days are coming for the India-Britain relationship.

Good days are coming for the investment we make in each other's economies.

Good days are coming for the trade between our two trading nations.

Good days are coming for the financial partnership we can forge to build, literally, the infrastructure of the future.

Good days are coming […]

Since I've been coming here as Chancellor, trade between our countries has grown by 50%.

UK companies are some of the biggest investors in India.

And Indian companies invest more in Britain than in the rest of the European Union put together.

This has been driven by the ingenuity and enterprise of business people, from the managers of the largest multinational firms to the owners of the smallest companies, who have had the courage to take the daunting first steps and start to export.

And it's been helped by a huge, deliberate effort from this British government.

At the heart of the long term economic plan we are pursuing is a determination that not only will Britain live within its means, with tough decisions to bring the public finances under control and into balance; but also that we will expand those means by making the things and providing the services that the rest of the world wants to buy.

The job of expanding our exports, increasing investment, and rebalancing our economy is not yet done.

We have more work to do. More work to do with India.

From the moment David Cameron came here as the opposition leader 8 years ago, to the decision he took to make India the destination for his first big foreign visit as Prime Minister in 2010, to this first ever joint visit by a British Chancellor and British Foreign Secretary to meet the new Indian government just weeks after coming to office, we have put a stronger relationship between Britain and India at the heart of our foreign and economic policies.

And I believe a stronger relationship with Britain will help deliver the new economic policy of the Indian government.

Prime Minister Modi is seeking more investment in India's economy - and I want British companies to provide it, and the British government to support it.
Ahead of their joint speech, the Chancellor will visit the main site of Indian automotive giant Mahindra in Mumbai to announce they are locating their research and development for the next generation of their electric vehicles in the UK.
They are investing £20 million in new state-of-the-art facilities in Farnham and Donington to support their Formula E racing team – the new racing competition driving innovation in the electric vehicle market. The technology being developed could be used for Mahindra's consumer electric vehicle programme.
He will also announce that Indian pharmaceutical company Cipla will invest up to £100 million in the UK.
The investment will fund the launch of a range of drugs in the area of respiratory, oncology and antiretroviral medicines as well as research and development and clinical trials as part of their further expansion internationally and in the UK.
Cipla is one India's leading pharmaceutical firms and this decision shows the UK's international strength and attractiveness in this sector as well as its growing importance in Cipla's long term strategy.
Both investments underscore the attractiveness of the UK as a centre for cutting edge research and development and are examples of the modern economic relationship between Britain and Indian they are using their trip to promote.
The Foreign Secretary will announce more generous UK support for India's most talented students through a quadrupling of the UK's funding for Indian Chevening scholars over the next two years, and the granting of 500 GREAT Awards to support Indian students studying in the UK. This will make India the largest recipient of Chevening scholarships in the world.
Accompanying the Foreign Secretary and the Chancellor on the visit will be Minister for government policy Oliver Letwin, Cabinet Office Minister Jo Johnson, Minister of State at the Department of Energy and Climate Change Greg Barker and the Prime Minister's Indian Diaspora Champion Priti Patel.
Trade
Since Q1 2010 UK goods exports to India increased by a half and goods imports from India by a third.
In 2013 the UK exported £7.7 billion worth of goods and services to India and imported £8.8 billion goods and services from India.
In 2013 UK goods exports to India increased by 13% on a year ago and the UK is on track to meet its trade target.
UK companies investing in India
The UK is the third biggest investor in India (after Singapore and Mauritius) and invested $3.2 billion in 2013 to 2014.
In 2012 UK businesses earned £1.4 billion in India.
Indian companies investing in the UK
The UK attracts more Indian investment than the rest of the EU put together.
In 2012 Indian businesses earned £225 millio in the UK.
According to a research by Grand Thornton, there are over 700 Indian-owned businesses in the UK, employing more than 100,000 people.
The top 41 fastest-growing Indian companies in the UK generate some £19 billion of turnover.
Mahindra and Cipla
Mahindra are a multi-national company with more than 180,000 employees in over 100 countries across the globe.
They were founded in 1945 as a steel trading company but have diversified into a variety of different sectors including automotive, aerospace, finance and insurance and IT. In the UK they own a telecoms company which employs approximately 1,000 staff in Milton Keynes and Belfast and a forging business based in the West Midlands.
Cipla is an Indian pharmaceutical company with a turnover of $1.5 billion and 26,000 employees spread across 170 countries. The company has 34 manufacturing facilities and manufactures 2,000 products in 65 therapeutic categories.
Quadrupled Chevening Scholarship funding
Chevening scholarships are the UK government's global scholarship programme.
Funded by the FCO and partner organisations, the programme makes awards to outstanding scholars with leadership potential from around the world to study postgraduate courses at universities in the UK.
2014 to 2015 will see a £1 million increase on this year's funding, raising it from £600,000 to £1.6 millio. Then in 2015 to 2016, a further increase of £800,000 will take India's Chevening budget to four times what it is now – a total of £2.4 million and a world class education for over 150 Indian scholars.
These will provide a mix of one-year and short courses, with a one-year masters costing around £20,000.
GREAT Education Awards for 500 Indian students
In 2015, the UK government will offer 500 GREAT Awards to support Indian students studying in the UK.
GREAT Scholarships India is a joint programme part-funded through GREAT funds and part-funded through contributions made by UK Higher Education Institutions (HEIs). For every £2 UK universities put in, the GREAT Education campaign will support with £1.
Awards can range from £750 to £15,000; the average award is between £3,000 and £5,000. Scholarships could be offered at Undergraduate or Postgraduate level; if students are at undergraduate level then the GREAT funding will be for the first year of study only.
The British Council has already worked with 36 universities across the UK to offer 370 of the part-funded scholarships, totalling almost £1 million in 260 under- and post-graduate courses that range from engineering, law and business, to art and design, and biosciences.
New Gandhi statue for Parliament Square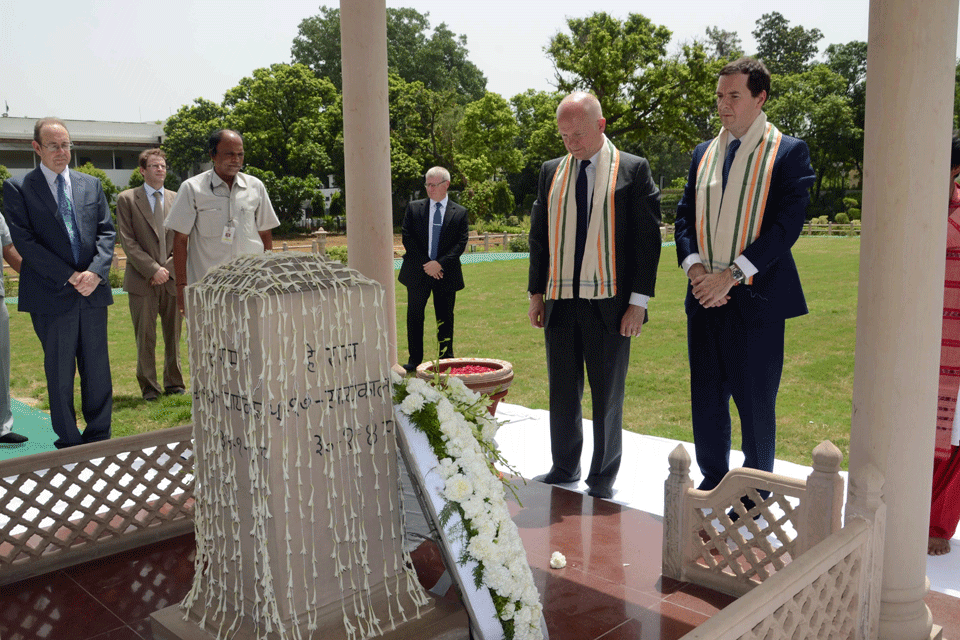 The Foreign Secretary and Chancellor have announced plans for a statue of Mahatma Gandhi, the inspiration for non-violent civil rights movements around the world, to be erected in Parliament Square.
New Deputy High Commission in Ahmedabad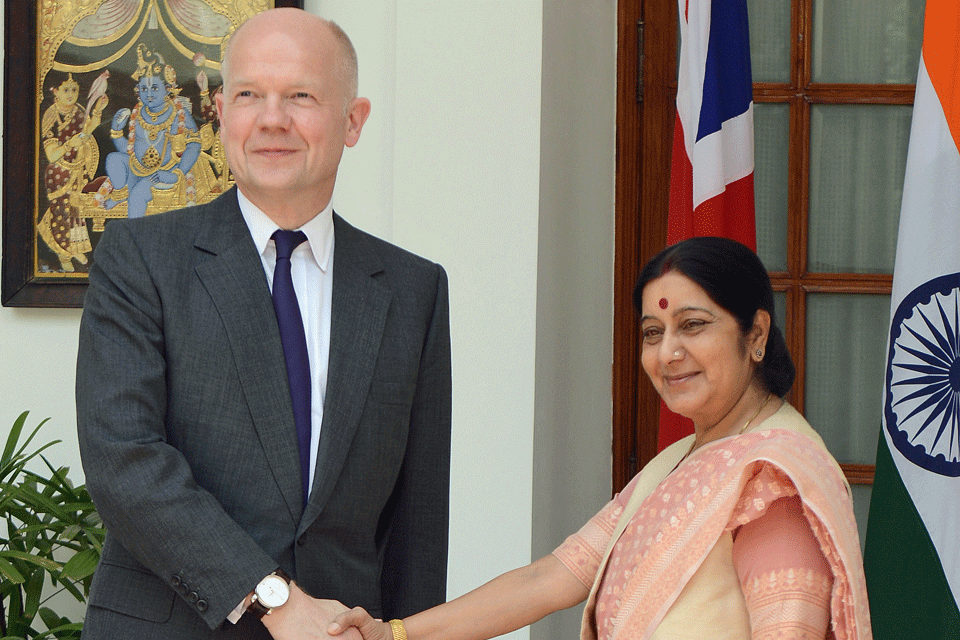 Britain's trade office in Ahmedabad is to be upgraded to become a new Deputy High Commission, giving British businesses new and improved links to trade and investment opportunities in the state of Gujarat and providing enhanced consular services to the large British Gujarati community.
India's External Affairs Minister, Mrs Sushma Swaraj, confirmed this to the Foreign Secretary William Hague in their meeting at Hyderabad House, Delhi this morning.
Ahmedabad is the capital of Gujarat, one of India's fastest growing and most prosperous states, the home state of Prime Minister Modi, and a state with substantial ties to the UK's Indian diaspora, over a third of whom originate from Gujarat.
India already hosts the UK's largest diplomatic network in the world. When the new Deputy High Commission opens there will be a total of seven in India, including the existing ones in Mumbai, Chandigarh, Hyderabad, Kolkata, Bangalore and Chennai, in addition to the High Commission in Delhi.
Chancellor announces £1 billion credit line for British exporters
On the final day of his visit to India with the Foreign Secretary, the Chancellor has announced a radical expansion of export finance for British companies in India.
The announcement follows their meeting with new Indian Prime Minister Modi and the conclusion of the Economic & Financial Dialogue with the Chancellor's Indian opposite number, Finance Minister Arun Jaitley.
The new export help will come in the form of a £1 billion line of credit for investment in Indian infrastructure - the biggest ever offered to support a sector in a single country - and a commitment to guarantee certain Rupee denominated export related loans.
These new measures will help India secure private investment into their infrastructure priorities, and ensure British companies are helping deliver these.
These measures build on the reforms the Chancellor announced at the Budget - to put the UK to the top of the global league for export support.
New figures today show a pipeline of potential export contracts worth £2 billion have already been identified in the first two months since the reforms were announced.
Working together on investment and infrastructure was just one of the priorities agreed between the Chancellor and his opposite number following their dialogue today.
The Foreign Secretary held wide ranging talks with the Indian Foreign Minister and National Security Adviser.
Published 7 July 2014
Last updated 8 July 2014
+ show all updates
Updated with the latest from India - the Chancellor announces £1 billion credit line for British exporters.
First published.