Champion for elimination of violence against women, Lynne Featherstone, to focus on women's rights at the Afghanistan Civil Society Forum
Home Office Minister Lynne Featherstone will attend the Civil Society Forum on Afghanistan in Bonn on 2 and 3 December to discuss women's rights and empowerment.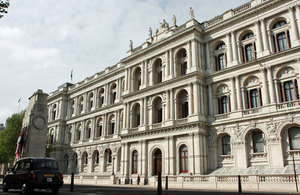 The Forum will give Afghan civil society a platform for debate in advance of the International Bonn Conference. Following on from a coordinated consultation process which began in June 2011, 34 delegates will present policy recommendations on a range of issues including the transition of responsibility for governance and law and order from the international coalition to the Afghan authorities. Two representatives will then present those recommendations to Foreign Ministers at the Bonn Conference.
Ms Featherstone will meet women's civil society representatives who have played an active role in coordinating civil society participation at Bonn. She will also speak with female Afghan Ministers, civil servants attending the Bonn Conference and international partners to hear their insights into the most pressing issues on women's rights and women's empowerment in Afghanistan.
Her engagement builds on recent discussions in London on Afghan women's rights, including with Selay Ghaffar, Director of the Humanitarian Assistance for the Women and Children of Afghanistan, and with UK-based NGOs concerned about women's rights in Afghanistan.
The UK Government is committed to working with Afghan and international civil society, especially on women's rights and broader gender issues in Afghanistan, including access to education and economic empowerment.
The International Bonn Conference will bring together 88 national and 17 international delegations and around 1000 participants. The Foreign Secretary will attend for the UK. It is a critical opportunity for the international community to reinforce its long-term commitment to Afghanistan and discuss an inclusive political process which addresses the needs of all Afghan citizens, including women. The UK has made clear that we would like to see an inclusive Afghan delegation at the conference with women well-represented.
Published 2 December 2011