News story
Challenges and Changes for the FCO 2010 - 2015: Twitter Q&A
Twitter Q&A with Head of the Diplomatic Service, Sir Simon Fraser, Wednesday 1st July 12.30pm.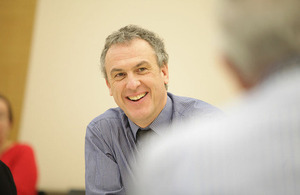 The FCO's role on behalf of the UK around the world has changed in many ways over the last five years. This is an opportunity to speak to Simon Fraser, head of the Diplomatic Service about what we have achieved, the problems we have encountered and the lessons we have learned in transforming the work of such a historic institution.
Areas where the FCO has had a renewed focus include:
Leading the UK's response on the ground to global disasters and crises such as the Nepal Earthquake, tackling Ebola and the shooting down of Air Malaysia flight MH17
A bigger than ever drive to open up global trade abroad to create economic growth and jobs at home
Launching the Diplomatic Academy and re-opening our language training centre to strengthen British diplomacy
Founding the global Preventing Sexual Violence in Conflict campaign
Helping with preparations for major events, such as the Olympics and the NATO summit
Modernising the consular support we give to British people around the world
Re-organising our network of embassies and consulates – opening new posts so we have officials in places where the UK can have the most impact.
Challenges faced along the way include:
Doing more with declining resources
Responding to multiple crises happening at the same time
Improving the coordination of international work across the whole of Government
To take part, tweet your questions to @SimonFraserFCO and include #askFCO. You can submit questions in advance or to Simon when he is online from 12.30 – 13.15.
Further Information
Published 24 June 2015