'Challenge it, report it, stop it' – a plan to tackle hate crime
A government plan to tackle hate crime is launched today with the key message to 'challenge it, report it, stop it'.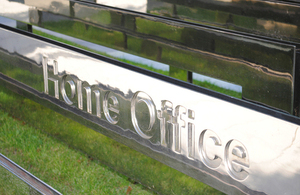 Equalities Minister Lynne Featherstone unveiled the plan as she addressed a hate crime conference organised by the association of chief police officers (ACPO) in Birmingham.
The plan sets out the government's role in supporting local areas to tackle the hatred that divides communities and ruins the lives of victims, often with tragic consequences. It also highlights a drive to encourage more victims to come forward and report incidents, which will provide the government and agencies with a clearer understanding of the problem so that further support can be targeted where it is most needed.
The plan outlines a cross-government approach to tackling hate crime focusing on three key themes:
preventing hate crime by changing the attitudes of those that commit it, and early intervention to prevent it getting worse;
increasing reporting and access to support so victims feel more confident to come forward;
improving the response to hate crime by better identifying and managing cases, and dealing effectively with offenders.
Lynne Featherstone said:
'Hate crime has devastating consequences for victims and their families, and also divides communities. We must all stand up and confront this despicable behaviour. Hate crime is unacceptable in a civilised society and we owe it to victims and their families to carry on the fight against hatred.'
The plan covers a range of issues from tackling school bullying, challenging negative stereotypes and addressing racial, religious, disability, homophobic and transgender hate crimes. It also covers improving data, sharing good practice among local areas and issuing new guidance for police officers.
ACPO lead for hate crime, assistant chief constable Drew Harris, said:
'Hate crime causes a great deal of harm and fear among victims and communities and it has no place in a modern society. The UK is among world leaders in the way that it responds to hate crime, but there is still much work to do.
'One of our greatest challenges is to reduce the under-reporting of hate crime and this action plan builds on the work achieved to increase the confidence of victims and witnesses to come forward.'
Race equalities minister Andrew Stunell said:
'A high commitment to tolerance is one of the most respected values in this country. But for too many people these values are not reflected in their daily experience.
'We are working towards a fully integrated society in which everyone feels able to take part and this government is committed to ensuring that everyone has the freedom to live free from hostility or harassment.
'Hate crime in any form cannot be tolerated and we will remain vigilant to the continuing challenges and support the police in taking firm action against those who promote prejudice and seek to divide our communities.'
Notes to editors
1. The government's hate crime action plan can be found here
2. The latest hate crime statistics released by ACPO can be found here: http://www.report-it.org.uk/files/acpo_hate_crime_data_for_2010.pdf
3. The website www.report-it.org.uk allows victims and witnesses to report hate crime online.
4. For further information please contact the Home Office Press Office on 020 7035 3535.  
5. For details about the ACPO hate crime conference please contact ACPO press officer Michael Baker on 020 7084 8948 or email: michael.baker@acpo.pnn.police.uk.
Published 14 March 2012
Last updated 10 April 2013
+ show all updates
Changed broken link

First published.