World news story
Chairman of the City of London's Policy and Resources Committee in Lisbon
This was published under the 2010 to 2015 Conservative and Liberal Democrat coalition government
Mark Boleat visited Lisbon on 11-12 February to promote the City as a European asset and highlight the role it can play in the EU growth agenda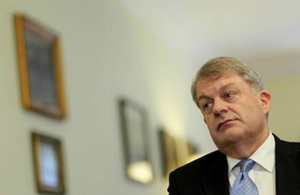 Mark Boleat, Chairman of the City of London's Policy and Resources Committee, visited Lisbon on 11-12 February to promote the City as a European asset and highlight the role it can play in the EU growth agenda, to discuss EU financial regulation matters, and to set out the City's views about Britain's position in the EU.
He held talks with the Portuguese State Secretary for Finance Manuel Rodrigues, the Deputy Governor of the Bank of Portugal Pedro Duarte Neves, and representatives of other Portuguese financial authorities.
In addition, the visit programme included a lecture at Lisbon's Nova University for an audience of students, alumni, officials and financial services practitioners; a dinner with a group of politicians, opinion-makers and senior bankers; and lunch with a range of current and potential Portuguese investors in the UK.
He granted a key note interview to one of Portugal's top quality dailies Jornal de Negócios where he praised Portugal's adjustment efforts and progress towards economic recovery, and said the Portuguese and Portuguese businesses were very welcome in London and wider UK. He noted that Portugal was no longer perceived as a problematic case in Europe, the economy was improving, and this indicated that Portugal's adjustment strategy was on the right track.
This visit has also been an opportunity for promoting the concept of Portugal as a platform into Lusophone markets (mainly Angola and Mozambique) and raising the awareness of SMEs of the advantages of establishing British-Portuguese partnerships towards these emerging markets.
Document information
Published: 14 February 2014