News story
Chair of the School Teachers' Review Body: position advertised
The Secretary of State for Education launches a competition to appoint a new Chair of the School Teachers' Review Body (STRB).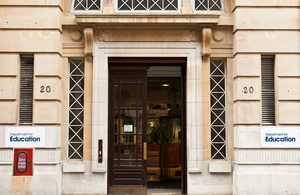 Following the announcement on 16 April that Dame Patricia Hodgson would be stepping down at the end of May, the Secretary of State has launched an open competition to appoint a new Chair of the STRB.
The appointment process will be run in accordance with the code of practice issued by the Office of the Commissioner for Public Appointments. This ensures that all appointments to public bodies throughout England are made in a way that is open, transparent and fair to all applicants. All applicants are appointed on merit and the process will be subject to scrutiny by an independent public appointments assessor.
The closing date for applications is Monday 9 June.
For full details and to apply please visit the recruitment website.
Published 19 May 2014