Chagossian communities to visit British Indian Ocean Territory
Twelve members of the Chagossian communities in the UK and the Seychelles will visit the British Indian Ocean Territory next week.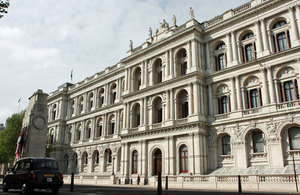 The Chagossians will travel to Diego Garcia and will have the opportunity to visit the northern atolls of Peros Banhos and Salomon including the graveyards on Ile du Coin and Ile Boddam.
The trip has been organised and paid for by the British Indian Ocean Territory Administration, based in the Foreign and Commonwealth Office in London, and forms part of a wider commitment to an open dialogue with the Chagossian communities.
Speaking of the visit, Henry Bellingham MP, Minister for the Overseas Territories, said:
"I am pleased that we have arranged for a small group of Chagossians from the UK and the Seychelles to visit the British Indian Ocean Territory from 28 March to 6 April.
Although the Government will continue to contest the case brought by the Chagossians to the European Court of Human Rights on resettlement and compensation, we believe it is vital that we continue to engage with the communities and this visit is an important part of that commitment.
The Government is very keen for such visits to continue and I hope to be able to offer more visits in the future including opportunities to take part in environmental projects ongoing in the Territory."
Published 25 March 2011