CGS outlines rationale behind today's Army 2020 announcement
Writing in The Times newspaper, Chief of the General Staff General Sir Peter Wall has outlined the thinking behind the changes to be made to the Army in today's Army 2020 announcement.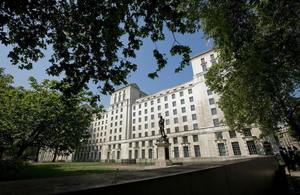 General Wall writes:
Today the Defence Secretary Philip Hammond will set out what the Army is for.
After the experiences of the past ten years there is unlikely to be much of a national appetite for protracted war. Yes, the United Kingdom faces new threats from terrorism and cyber attack. But in an era where there has been no threat of conventional invasion since the end of the Cold War, some might ask why we can't shrink our Army by even more than the significant numbers already announced.
Fighting wars through precision attacks from air and sea has obvious political as well as military attractions. And if that won't work then why not rely on our allies to do the hard yards? Or support a local proxy force to deliver 'boots on the ground'?
The answer lies in the level of assurance that we as a nation require when our interests are being threatened and we are vulnerable. The world is not going to be any less confrontational just because of its economic plight; in all probability it will be more so.
Some threats we face will come from well outside the military sphere: challenges to our economic interest, to our values and beliefs, to the conditions that underpin stability around the world. Diplomacy and negotiation will always be our first resort. But the credibility of these approaches often depends on the implicit understanding that military options exist - and that, when the preferred means aren't working, we may need to turn to them.
And that when we do, they must work.
Increasingly that means forming coalitions that include regional partners as well as our traditional allies. They are becoming ever more important in political and military terms, but also to confer international legitimacy on our actions. We should only commit forces when we have a clear understanding of the nuances of the situation at all levels - including the human terrain. Understanding that is critical as both Iraq and Afghanistan have demonstrated. Such a level of clarity is hard to come by.
We have designed Army 2020 against this backdrop. Our future force will be structured around three core purposes. The first is intervention and conventional deterrence; the second is overseas operations in multinational alliances to prevent conflict at source; the third purpose is activity within the UK - partly to make us more responsive to domestic operations such as flood relief and the Olympics and to improve homeland resilience, but primarily to ensure that we can sustain the reformed Army Reserve that will be a key element of our new forces.
The Army Reserve will include armoured forces and light forces, intelligence and surveillance. It will work with the Royal Navy and the Royal Air Force as well as government departments and NGOs [non-governmental organisations]. It can be adapted to handle smaller operations, or configured as a full-scale brigade for a sustained period, as we currently operate in Afghanistan. Given warning it will field a division for even larger challenges.
Despite a reduction of 20 per cent in our regular manpower, our future capacity will not be far short of its current level. We have managed this by building a high dependence on the new Army Reserve, and a support network of specialist contractors. This is a groundbreaking change. But I am confident that with imagination and the help of employers and industry - supported by changes to legislation - this will work.
Relocating the Army from Germany calls for some focused spending on new bases - and the sooner we can do this the better. We will have important new equipment, including the excellent capabilities returning from Afghanistan.
But what of our officers and soldiers who are so critical to this venture? They are to be found in the warrior generation that has fought courageously in Iraq and Afghanistan. We need them to soldier on into the new era, and we need people of comparable courage, talent and commitment to join them.
After our departure from Afghanistan in 2014 life in this new Army is going to be different for sure; but it will be just as challenging. So we will look after them and their families. The ongoing redundancy programme is unavoidable. We must do everything possible to support those soldiers making the transition into civilian life. Equally we need to ensure the military continues to attract the best.
Change is always difficult, and for an organisation as mindful of its history as the British Army this is especially so. I am confident that Army 2020 is imaginatively configured and properly resourced to meet the future demands of this uncertain world, manned by soldiers of the highest quality.
Please tell us what you think about government news on the web by filling in the short survey at Related Links.
Published 5 July 2012