CEO of UK Trade & Investment visits Australia
Sir Andrew Cahn, Chief Executive of UK Trade & Investment (UKTI) visits Australia for first time since 2006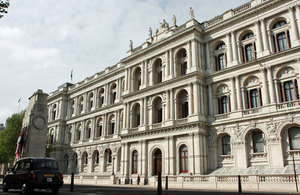 Sir Andrew Cahn, the Chief Executive of UK Trade & Investment (UKTI) will be visiting Australia in early September to strengthen the trade and investment relationship between the UK and Australia as well as meet key figures from Australian politics and business. Sir Andrew last visited in 2006.
His programme includes appointments with high-level representatives from politics and business including the Head of Austrade Mr Peter Grey, The Business Council of Australia, Macquarie Group, Australian-British Chamber of Commerce (ABCC) and Australian Industry Group. Sir Andrew will also be a guest speaker at the ABCC Centenary Ball in Sydney on Thursday September 2nd 2010.
Sir Andrew's visit coincides with broader economic policy reform in the UK, which has focused on stimulating growth and reducing the budget deficit. These measures have targeted a private sector-led recovery; including through a reduction in corporate taxes and a focus on strengthening inward investment. This is especially significant for Australian business, as the UK was the largest destination for Australian FDI in 2009.
Speaking on this relationship, Sir Andrew has highlighted the ongoing opportunities for Australian businesses in the UK:
"The UK is at the centre of the timezones and the centre of so many global industries. It is the perfect place to look for new ideas and partnerships that will drive your Australian company to a higher level of international growth and new business opportunities on the world stage."
From an Australian perspective, this relationship is equally significant. The UK is the second largest investor in Australia (worth AU$24.3 billion) and Australia's fifth largest trading partner (worth AU$498.6 billion). Despite the global economic downturn, UK foreign direct investment into Australia increased by A$1.8 billion in the year to December 2009. The EU, as a whole, remains Australia's most important economic partner, both in terms of two-way trade and investment. In fact, two- way investment between Australia and Europe exceeds A$1 trillion, and European investment in Australia accounts for around one third of total external investment.
Mr Richard Morris, the British Consul-General in New South Wales and Director-General for UKTI Australasia said:
"We look forward to welcoming Sir Andrew to our business community and discussing new and renewed opportunities for trade and investment here and in the UK. His visit shows how strong the UK-Australia economic relationship is and the great possibility for growth well into the future."
Sir Andrew Cahn has been Chief Executive of UKTI since 2006 and has worked on economic and commercial issues for most of his career. He joined UKTI from British Airways, where he was Director of Government and Industry Affairs from 2000 to 2006. He has twice worked in the Foreign & Commonwealth Office as the UK's Permanent Representation to the European Union and as Deputy Head of the European Secretariat in the Cabinet Office in the mid-nineties.
For more information about Sir Andrew Cahn or UK Trade & Investment, contact:
Jake Waddell, UK Trade & Investment, Sydney
T: (02) 8247 2218 or jake.waddell@fco.gov.uk
Search the news archive
Published 23 August 2010