News story
Cemfjord report published
Capsize and sinking of Cemfjord with the loss of 8 lives in the Pentland Firth, Scotland.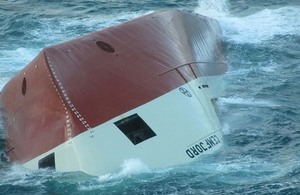 The report into MAIB's investigation of the capsize and sinking of the cement carrier Cemfjord in the Pentland Firth, Scotland with the loss of 8 lives on 2-3 January 2015 is now published.
In his statement to the media, Steve Clinch, The Chief Inspector of Marine Accidents stated:
The MAIB investigation found that Cemfjord capsized in extraordinarily violent sea conditions; a fatal hazard that was predictable and could have been avoided. The decision to enter the Pentland Firth, rather than seek shelter, was almost certainly a result of poor passage planning, an underestimation of the severity of the conditions and perceived or actual commercial pressure to press ahead with the voyage. Critically, this decision will also have been underpinned by an unwillingness to alter course across the heavy seas after the experience of a cement cargo shift in similar circumstances about 3 months before the accident. The appalling conditions and rapid nature of the capsize denied the crew an opportunity to issue a distress message or to escape from their ship. Although not a causal factor of the accident, it was also established that Cemfjord was only at sea because of Flag State approved exemptions from safety regulations. This tragic accident is a stark reminder of the hazards faced by mariners at sea and the factors that can influence decision making in such treacherous circumstances.
Read MAIB report
A video summarising the accident and lessons identified by our investigation is also available:
MAIB investigation for Cemfjord
Press enquiries
Press enquiries during office hours 020 7944 3021
Press enquiries out of hours 020 7944 4292
Published 21 April 2016