Celebrities row for forces charities
Row2Recovery is a new charitable campaign which began with the aim of supporting a mixed crew of able-bodied and wounded soldiers and veterans…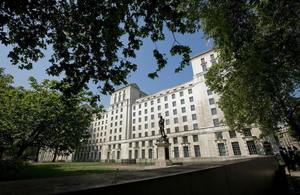 Row2Recovery is a new charitable campaign which began with the aim of supporting a mixed crew of able-bodied and wounded soldiers and veterans in their attempt to row from the Canaries to Barbados starting in December this year.
Since then, it has morphed into a huge fundraising campaign, which was launched on Friday 24 June 2011 at Horse Guards Parade in London.
Olympic rower James Cracknell, cricketer Freddie Flintoff, TV presenter Ben Fogle, rap artist Dizzee Rascal, rugby player Steve Thompson and ITV newsman Mark Austin were just some of the stars backing - and taking part - in the fundraiser.
The challenge involved rowing one million metres in shifts on rowing machines to raise cash for military charities ABF The Soldiers' Charity, SSAFA, Help for Heroes, Battle Back and Combat Stress.
Around 70 people in total took part, including many seriously injured Service personnel such as Lance Corporal Carl Anstey, from 1st Battalion The Rifles, who suffered rocket-propelled grenade blast injuries and nerve damage in Afghanistan in January 2009, shattering his knee.
He is currently posted to the Personnel Recovery Unit in Chilwell. But his injuries did nothing to stop him from rowing a ten-minute shift that clocked up an impressive 2,500 metres.
Lance Corporal Anstey is one of the team members that will row 3,000 miles (4,800km) from La Gomera in the Canary Islands to Barbados in December 2011, along with Captain (Retd) Ed Janvrin, Captain (Retd) Alex McKenzie, Lieutenant Will Dixon, Corporal Daniel Whittington and civilian Neil Hunt.
Lance Corporal Anstey said:
The idea is to inspire guys who have been seriously injured to do something amazing. I've been injured for two years and this is my first time that I've done something so challenging. It has massively improved my confidence and rehab and muscle strength and team building.
The rowing team at Horse Guards was clearly overwhelmed by the public reaction, when tourists and soldiers stopped to take part or throw a pound in the collection bucket. Organiser Diana Hickox said:
The reaction has been so supportive, school kids are interested in the boat on display while civvies and military are queuing up to have a go at the rowing.

Row2Recovery is a fundraising campaign to raise £1m for Armed Forces charities. This is our launch event and it has been fantastic. We had tourists and people giving up their lunch break to come and join in.

We gave them a go and everyone was keen to sign up, get a T-shirt and have a go. Everyone is welcome as it's a real group effort to row one million metres in just 24 hours.
Retired Army Officer Ed Janvrin left the Army three years ago. He said:
People have been so positive today. The support has been amazing and we've had tourists from Germany and random joggers stopping and they can't believe it.
Ed said the event aimed to demonstrate how hard it was to row one million metres - and this is only about one-fifth of the distance that the servicemen will row on their Atlantic trip.
Just one hour after the Horse Guards rowathon was launched, the rowers had reached 50,000 metres, but with 950,000 metres to go, confidence was still high.
ITV newsman Mark Austin said:
I have been to many war zones as a correspondent for ITN and presented News at Ten from Afghanistan and Iraq.

My message to troops is keep your head down, you're doing a great job, and whenever our camera crews or reporters come out, we always come back in awe of what you are doing.

Whenever I meet them, I think how incredibly brave they are and, regardless of the politics of pulling out, the one thing you can never dispute is the bravery of the young men and women out there.
Asked if he had chipped in with a rowing shift, the news presenter affirmed that he had done his bit:
Yeah, it is very hard and I did my ten metres alongside James Cracknell who finished 700 metres ahead of me. It was very easy to spot who the Olympic rower was!" he laughed.
Published 28 June 2011