News story
Celebrities give morale-boost to injured personnel
Patients and staff at the Royal Centre for Defence Medicine have been treated to a visit from a footballing legend and a Hollywood star.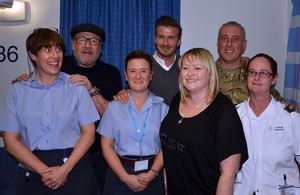 David Beckham and Ray Winstone both dropped into the Royal Centre for Defence Medicine at the Queen Elizabeth Hospital in Birmingham to see injured Service personnel and the medical staff who treat them and show their appreciation for the jobs that they do.
Ray was the one who instigated the visit and invited his friend David to join him. David jumped at the opportunity and even rearranged his diary so that he could attend.
Although the Armed Forces personnel knew that Ray Winstone was paying them a visit, David Beckham's presence was a surprise and it certainly added to the excitement of the experience.
David said:
To come here today and see the work of the nurses, the work of the doctors, I think it's a pretty amazing place. It's very uplifting because you're meeting some of the troops and they are very positive about life and about their futures. It really has been an inspiring visit.
Both stars are big supporters of the military and have been to Afghanistan, with David Beckham visiting troops in theatre most recently in 2010.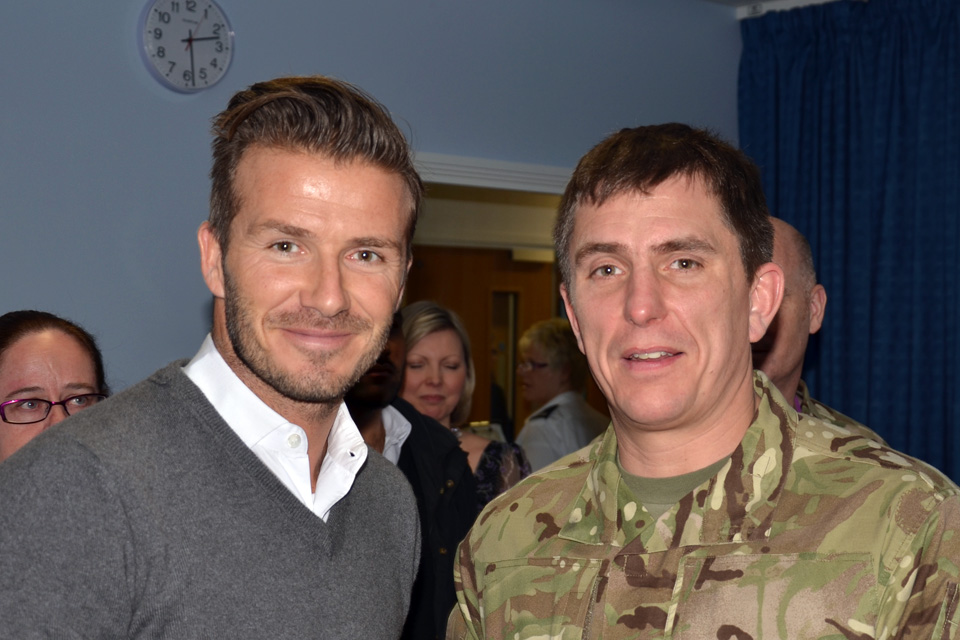 Ray Winstone said:
These kids are out there protecting my children and whatever the world is going to be when I'm dead and gone so I think it's only right that myself and the rest of the country support them.
Over the 2 hours that they were at the hospital, David and Ray managed to meet many personnel and staff, which resulted in a morale-boost which is still being felt 2 days later.
Corporal Neil Middleton is a nurse at the hospital. He said:
I think it means a lot. Some of the military patients are here for months at a time and being in hospital is a pretty boring experience for the patients. It just adds that bit of adventure and difference to the day.
The primary function of the Royal Centre for Defence Medicine is to provide medical support to military operational deployments. It also provides secondary and specialist care for members of the Armed Forces and is a dedicated training centre for Defence personnel and a focus for medical research.
Published 18 January 2013