Celebrating women, peace and security
Foreign Secretary William Hague has issued a statement on Women in Conflict, to mark the tenth anniversary of United Nations Security Council Resolution 1325 on Women, Peace and Security.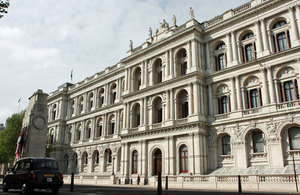 The Foreign Secretary said:
"Countless women have dedicated their lives, and in some cases sacrificed their lives in order to bring peace to societies ravaged by war and to stand up for human rights.
"Today, on the tenth anniversary of the landmark UN Security Council Resolution 1325, we pay tribute to these women and reaffirm our commitment to work for the protection of women in armed conflict and for their active involvement in conflict resolution.
"No society can address its problems by drawing solely on the talents of only half of the population. Lasting peace cannot be realistically achieved after conflict unless there is justice for the female victims of war and unless they are actively involved in rebuilding societies in which their rights are respected and their voices are heard.
"We will work to ensure that more progress is made on this agenda in the years ahead. The coalition Government has pledged that human rights will be at the heart of our foreign policy. Our new 'Women, Peace and Security National Action Plan' will outline how UK efforts are actively protecting and supporting women to bring about peace in some of the most difficult environments including in the Democratic Republic of Congo, Afghanistan and Nepal. And in international fora including the United Nations, we will strive to secure global agreement to effectively implement this essential resolution."
The Foreign Secretary recently made a speech at a Parliamentary event to mark the launch of the civil society campaign 'No Women, No Peace'.
Published 26 October 2010