World news story
Celebrating UK/SA Science Excellence - Kevin Govender to receive Edinburgh Medal
Kevin Govender is the first South African astronomer to win the Edinburgh Medal.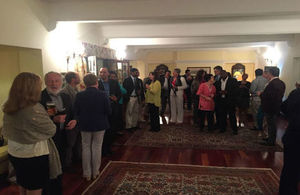 On 23 March 2016, the Science and Innovation Team in South Africa hosted a reception at the Residence for South African astronomer Kevin Govender, winner of the 2016 The Edinburgh Medal. Govender and the International Astronomy Union (IAU) jointly received the award for their work to harness astronomy in the service of education and capacity building in the developing world. Kevin is the second African and first South African to win this global standing award. The last joint recipients were Prof Higgs and CERN.
The event was an excellent platform to engage over 40 high-level South African scientists and officials in the Astronomy/Big Data field. The initiative and the UK's strengthened commitment to Science and Innovation cooperation was clearly registered and valued by Govender, Minister Pandor and those present.
Minister Pandor spoke glowingly about the work that Kevin and the IAU do in the region, who are now working from regional offices globally, including offices in Nigeria, Zambia and Ethiopia. In her comments, Minister Pandor highlighted the force of science as a diplomatic and developmental tool, the need to enhance South Africa's STEM education across the board and highlighted the specific power that Astronomy had ignited young people's interest. The Minister spoke warmly about the recent Newton task force as well as UK/SA Science and Technology collaboration in general.
Kevin, a highly passionate and articulate scientist of international repute received the award on 30 March 2016 at the Edinburgh City Chambers and delivered the Edinburgh Medal Address on "Astronomy for a Better World", as part of the wider Edinburgh Science Festival programme.
Published 30 March 2016