Celebrating ties between the UK and Oman
Minister for the Middle East Alistair Burt opened an exhibition of Omani jewellery at the British Museum on 26 January.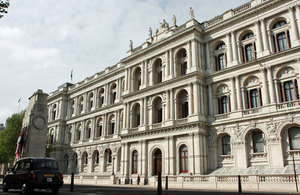 The exhibition titled "Adornment and identity" contains jewellery donated to the British Museum by the Sultanate of Oman.
The display features a selection of silver jewellery and objects of personal adornment from Oman, dating mostly from the 1950s. The display covers the themes of craftsmanship, religious and amuletic function and the significance of coinage in Omani jewellery. The artefacts are displayed together with colourful embroidered costumes from different regions of Oman.
The Minister for the Middle East thanked the Sultanate of Oman for their donation, and underscored the close and trusted friendship between the UK and Oman. The Minister highlighted the successful State Visit to Oman in November 2010 by Her Majesty the Queen and Foreign Secretary William Hague as an example of the close partnership between our countries.
The Minister went on to say that the long and close connection between the two countries are not simply formal links between governments but a relationship between our two peoples and a closeness that can be found in every walk of life. For example, a large numbers of Omanis study at schools, universities and training institutes in the UK; approximately 7,000 British citizens live and work in Oman; business connections are varied and growing as well as numerous other links developing daily across political, social and cultural levels.
Mr Neil Macgregor, Director of the British Museum, Mr Bernard Looney, Executive Vice Premier of BP Exploration and His Excellency Mohammed bin Hamood Al Tobi, Undersecretary of the Ministry of Tourism of the Sultanate of Oman also spoke at the opening of the exhibition. The exhibition was also attended by International Development Minister Alan Duncan.
Published 28 January 2011