Celebrating the Jubilee in all communities
Eric Pickles today announced extra funding to ensure that communities are not left out of the Diamond Jubilee celebrations this summer. With…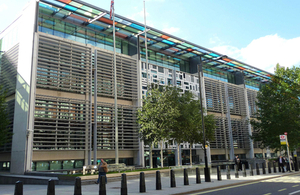 Eric Pickles today announced extra funding to ensure that communities are not left out of the Diamond Jubilee celebrations this summer.
With one month to go until the nationwide Big Jubilee Lunch on the next bank holiday weekend in June, the Communities Secretary said he would spend £185,000 on helping more areas to organise their own street parties and events.
The funding means that an additional 20 communities will get the support they need to plan and arrange their own Big Jubilee Lunch celebrations.
The money will be used by the Big Jubilee Lunch organisers, the Eden Project, to identify and support selected areas where there has been little or no participation to date, boosting communities' confidence to host their own event. The money will be spent over two years.
Organisers from the Big Jubilee Lunch will work with community volunteers and leaders to encourage local residents to participate in the event locally, and foster better community relations. Specially produced "tool-kits" will be on offer to help local residents run Big Lunches and other community events in the future with confidence.
The communities receiving the money were chosen by the Big Jubilee Lunch and the Eden Project using a range of criteria which looked at the frequency of previous community events, socio-economic factors and geographic spread. Each community will be free to decide how to use its funding in the manner that best matches its needs.
Communities Secretary Eric Pickles said:
2012 is a year of celebration: both the Diamond Jubilee and the Olympic Games will bring the country to its feet. The Big Jubilee Lunch is a unique opportunity to encourage people from different backgrounds across the UK to get together to build common ground.

I'm delighted that the Eden Project is helping the Government ensure that these communities aren't left out when it comes to the biggest celebration of the year.

By supporting them to take the lead and organise their own Big Jubilee Lunch, we're paving the way for ongoing community action.

People in these areas will realise that together they have the know-how and power to take charge of what happens in their local area.
The Eden Project's Director of Campaigns, Peter Stewart, said:
This is a really exciting opportunity to support communities across England and help them to create their own, unique Big Jubilee Lunch.

These communities stretch from St Blazey in the south to Gateshead in the north. St Blazey residents have already started planning their event across two outdoor venues, incorporating a wide range of fun activities from a children's disco to a 1950s style sports day.
Notes to editors
The £185,000 funding over two years will enable the Eden Project to provide targeted support to 20 communities each year.

Work is well under way in the 10 areas below in the run up to the Big Jubilee Lunch. The remaining 10 areas will be announced shortly:
1. St Blazey and Par (South West)
2. East Coseley Dudley (West Midlands)
3. Warsop Parish Mansfield (East Midlands)
4. Loughborough Junction (Lambeth)
5. Livesey Peckham (London)
6. Dewsbury Kirklees (Yorkshire and the Humber)
7. Northfleet North Gravesham (South East)
8. Priory Court Waltham Forest (London)
9. East Cleveland Rural Villages Redcar and Cleveland (North East)
10. Teams and Derwentwater Gateshead (North East)
Research shows that that three quarters of those who have previously taken part in a Big Lunch say they have kept in touch and feel closer to their neighbours; more than half of those who took part in 2011 are planning additional activities.
Twitter
Keep up to date with the Department by following us on Twitter (external link).
Media enquiries
Visit our newsroom contacts page for media enquiry contact details.
Published 7 May 2012