News story
Celebrating the history of UK reservists
The history of our reserves has been showcased in an exhibition at London's Victoria railway station.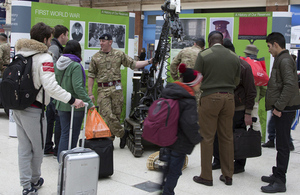 The stories of Nobel Prize winner Alexander Fleming and former British Prime Minister Edward Heath, who both served as reservists, were among those featured in the exhibition yesterday, 24 February.
It showed the significant contribution reserve forces from all 3 services have made to UK defence over the past century, and was very timely given the focus this year on the centenary of the start of the First World War.
Put together by MOD staff and a Reserve Forces and Cadets Association historian, Alexander Fleming and Edward Heath were just 2 of the famous reservists that were featured in the exhibition.
Before his celebrated discovery of penicillin, Fleming served as a private in the London Scottish Regiment for 14 years. He later went on to serve on the Western Front in the First World War as a captain in the Royal Army Medical Corps.
A generation later, Edward Heath, British prime minister from 1970 to 1974, served in the Honourable Artillery Company following his demobilisation from the Royal Artillery in 1946.
Others appearing in the exhibition included the most senior officer to survive the sinking of the Titanic, Charles Herbert Lightoller. A Royal Naval reservist, Lightoller commanded a torpedo boat during the First World War and was awarded a Distinguished Service Cross for his actions engaging an enemy Zeppelin.
There were also more recent examples of reserve service drawn from the 35,000 reservists currently serving in the UK.
They included advanced nurse practitioner and Royal Naval reservist Eileen Munson who served in Iraq in 2006 and in Afghanistan in 2011, where she helped to train members of the Afghan National Army in first aid and advanced battlefield care.
During the exhibition, reserve and regular personnel were on hand to talk about their experiences, including members of 7th Battalion The Rifles, who have recently been helping with the flood relief effort in the south of the country.
In addition, Royal Navy personnel from HMS President attended the event and members of the Royal Engineers showed off various bits of kit including 2 bomb disposal robots and an army quad bike.
Find out more about the history of our reserves and, if you are interested in becoming a reservist, find out more about joining the reserves.
Published 25 February 2014