World news story
Celebrating the 25 years of British-Armenian diplomatic relations
The British Embassy Yerevan hosted a jazz concert to mark the 25th anniversary of bilateral relations.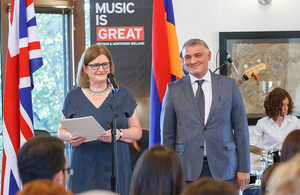 The British Embassy Yerevan kicked off its Autumn season of events devoted to the 25th anniversary of UK-Armenia diplomatic relations with a jazz concert at Byurakan Art Academy.
London-based jazz trio, Cygnus Flare, performed their unique fusion jazz to a select audience of guests.
Guests from the Armenian Government, Parliament, the diplomatic corps, business and the British community in Armenia, along with many other partners and friends joined us to mark the event.
In her welcome speech, Ambassador Judith Farnworth said:
Looking back over the last 25 years, a lot of work has gone into shaping and strengthening our bilateral relationship. Yet there is more we can and will do. The UK is committed to supporting Armenia's political, economic, defence reforms, to promoting stronger trade links, to working together to tackle global challenges, to promoting closer people-to-people contacts through tourism, educational exchange and culture.
The Deputy Foreign Minister, H.E. Mr Ashot Hovakimyan, presented the greeting message of the Foreign Minister Edward Nalbandian, which said:
Availing of this opportunity I would like to thank the UK for the assistance provided to Armenia since independence… It is not possible to contain in one message all the achievements of our interstate relations. However I'd like to stress that the ties between the peoples of Armenia and the UK are not limited to the last 25 years but are anchored to mutually warm centuries-old relations.
Cygnus Flare's unique fusion of a range of musical influences - from Armenian folk music to grunge-rock - created a fresh new sound which was a huge hit with the audience.
The band explained:
Cygnus is a constellation in universe and it is the Latinised Greek word for swan. Flare is a sudden flash of brightness in universe. This is why many of our tunes are related to universe or astronomy. Hence we are double pleased to be invited to Armenia – first for being honoured to play for this wonderful British-Armenian event and, second, for doing it here, in Byurakan, so close to the observatory and the stars…
What better way to celebrate the warm and friendly relationship between the UK and Armenia than in the company of a very talented British-Armenian jazz trio in the magical environment of Byurakan Art Academy?
This is the first of a series of events in which British Embassy Yerevan will showcase cooperation between Armenia and the UK from culture to education, from business to governance.
You can find the photos of the event on the British Embassy Yerevan's Facebook page.
Published 18 September 2017