World news story
Celebrating St Andrew's Day in Scotland's special year
St Andrews Day is an ideal time to think about the impact Scots and Scotland have had on the world.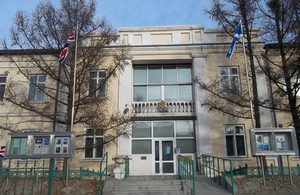 Did you know, for example, that James Bond isn't English? Scottish author Ian Fleming described him in his books as a Scot. Or that penicillin was discovered by another Fleming, and that television and the steam engine were invented in Scotland too?
Scotland today has a huge amount to offer whether you are a tourist, a student or looking to do business.
This year looks like being a record year for tourism, but in a usual year, 20 million people can be expected to visit Scotland, four times more than the entire Scottish population.
They come for Scotland's mix of vibrant, cosmopolitan cities; the biggest arts festival in the world; the beautiful, clean and unspoilt scenery, with thousands of historic castles, houses, battlegrounds, ruins and museums.
And 40,000 overseas students come every year to seek an education fit for a King. It was, after all, at one of Scotland's world-class universities, St. Andrews, that HRH Prince William studied and where he met his future wife.
This academic excellence helps to continue Scotland's proud tradition of innovation. With the highest level of education in the UK outside of London, Scotland is already a top location for Research & Development and Foreign Direct Investment in the UK.
And with increased certainty about Scotland's political future, many other firms will be looking to join household names like Amazon, Dell, Samsung, Microsoft, IBM, Morgan Stanley and Pfizer in moving their operations to Scotland.
Businesses can make use of Europe's fifth largest financial centre, Edinburgh, and the expertise that Scotland offers in sectors as diverse as business process outsourcing; financial services; life sciences and biotech; oil and gas; renewable energy; and technology.
Visitors can enjoy Scotland's food and drink, famed around the world, and the great outdoors.
And let's not forget Scotland's contribution to global fashion. It's no accident that tartan and high quality Scottish textiles are beloved of designers the world over.
This St Andrew's day, take another look at Scotland. Whether it is uncovering forgotten Scottish ancestors, forging a new business relationship or enjoying an unforgettable holiday, you can be sure it will surprise you.
Published 28 November 2014